McLouth girls adjusting to third coach in three seasons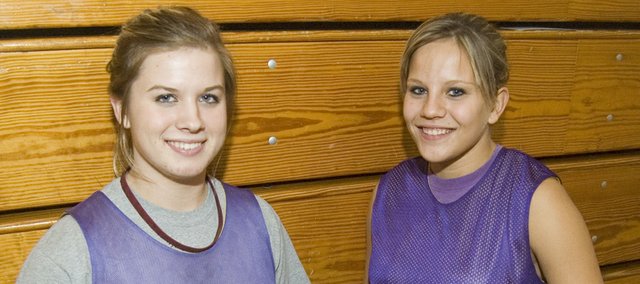 The past three seasons, McLouth High girls basketball players often joked around with assistant coach Gina Durkes and practices weren't too rigorous.
All of that, however, has changed now that Durkes is the Bulldogs' head coach.
MHS players have quickly learned under the new boss that things are going to be different this season.
"They take the head coach a lot more seriously," Durkes said, adding that her time as an assistant allowed her to get to know McLouth's players well. "They understand now when they get on the court, it's time to play and not goof off anymore."
The new coach's first line of business as the Bulldogs prepare for the season has been to bring more conditioning and discipline to practices.
"I think they've run more the last two weeks than they have the last three years combined," Durkes said.
The players, MHS senior guard Logan Terry said, have discovered the dynamic has changed between them and the former assistant. Now she is more of a coach than a friend.
"She makes us work hard," Terry said, noting practices have been a lot more difficult with an emphasis on running.
Durkes is just preparing the girls for what she wants to see this season, which is a lot of running. McLouth doesn't have much length on its roster, and senior Jesse Troupe, who will be an undersized, 5-foot-4 post player, said the team will have to run to increase its scoring potential.
"We've got to run a lot of fast breaks and be quick since we're so short," Troupe said.
Also lacking for the Bulldogs are four of the top five scorers from last year's 14-8 team. Not only did Missy Rome, Kylie Shufflebarger and Cassidy Bristol graduate, but Morgan Drinnon transferred to Eudora.
Durkes realizes it will be a challenge to replace that production.
"There's tons of points, obviously, that need to be made up," the coach said, pointing to Rome and Shufflebarger combining to average just more than 27 a game last season. "There's going to be a couple of people that are going to have to step up their game quite a bit in order to replace (them)."
The leading returning scorer for MHS is junior guard Terri Stewart, who averaged 5.1 points last year. Durkes said the combo guard can get up and down the floor and the coach hopes Stewart's speed will lead to transition layups for McLouth. Troupe said Stewart is one of the team's best ball handlers.
"She's really quick and she's good at passing the ball around and seeing who's open," Troupe said.
Kayla Steffey and Taylor Pope, Durkes said, also will be a part of the undersized rotation. The one player with some height, the coach added, is sophomore center Kaitlyn Hullinger, the squad's tallest player at 5-10.
"She's still very young, knowledge-wise, to the game," Durkes said of Hullinger, who played very little varsity last season as a freshman. "She'll have to step up quite a bit. She's got the body to do what you need to do underneath, she's just got to learn how to use it."
Although Durkes is the third McLouth girls head coach in three seasons, she doesn't think the players will have problems adjusting to her style, even if it is different and asks more from them, physically.
"I don't really consider it difficult," the first-year coach said.
The biggest challenge for the Bulldogs, Terry said, will be matching the success of last season.
"I think we'll have to work a lot harder," the senior guard said.
That's exactly what Durkes expects.
The MHS season begins Tuesday with the Marmaton Valley Tournament at Moran.