THS

mistakes propel Braves to 41-28 win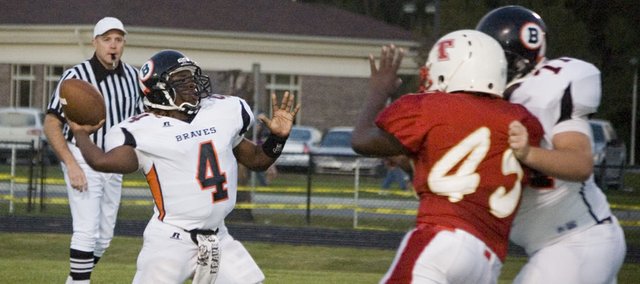 Photo Gallery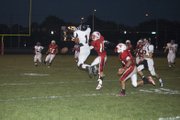 Bonner Springs 41, Tonganoxie 28
Bonner Springs got its first win of the season at Tonganoxie on Friday night with a 41-28 victory.
With five turnovers and 10 penalties, the Tonganoxie High football team gave winless Bonner Springs ample chances to erase that distinction from its résumé on Friday night at Beatty Field, and the Braves capitalized on the miscues for a 41-28 victory.
Three of the Chieftains' turnovers came in the second quarter and each one set up a BSHS score.
A fumble recovery by sophomore lineman Jared Clements on the THS three-yard line with 6:20 remaining in the half made it easy for Bonner Springs (1-4) to tie the game at 14 with a Johnathan Jackson rushing touchdown and a point after from kicker Derek Rodgers.
Less than a minute later, sophomore Braves defensive back Jonathan Blackwell picked off a Brady Waldeier pass and returned it to the Chieftains' nine-yard line. On second-and-goal, Jackson was in the end zone for another rushing score and BSHS took a 21-14 lead.
With a botched handoff exchange, Tonganoxie (1-4) put the ball on the ground again on its next possession and Bonner Springs senior lineman Brian Callahan recovered the fumble.
It only took a quick five-play, 41-yard drive for BSHS to score again, this time on a 27-yard touchdown pass from junior quarterback Jourdaine Smallwood to junior receiver Steve Williams.
A couple big plays from Chieftains senior Shawn Marin nearly swung momentum back to THS in the third quarter. First, Marin intercepted a pass with 9:41 to go. Then, after first-down pickups on carries by he and Waldeier, Marin ran for a nine-yard score that cut Tonganoxie's deficit to 28-21 with 6:30 left.
The THS defense followed that seven-play, 61-yard drive by the offense with a three-and-out.
As the Chieftains' offense came back out and tried to drive down field to tie the game, back-to-back penalties on a third down were followed by another fumble, which Callahan recovered with a minute left in the third quarter.
Three plays later, Jackson rushed for his third TD of the night.
THS senior Ian McClellan led his team 129 rushing yards and a TD. Waldeier ran for 76 yards and a score.
Next Friday, Tonganoxie travels to Lansing and Bonner Springs plays host to Bishop Ward.
Score by quarters
BSHS 7 21 7 6 — 41
THS 7 7 7 7 — 28
Scoring
B — Steve Williams 73 pass from Jourdaine Smallwood. Derek Rodgers kick.
T — Ian McClellan 5 run. Amos White kick.
T — Brady Waldeier 1 run. White kick.
B — Johnathan Jackson 1 run. Rodgers kick.
B — Jackson 2 run. Rodgers kick.
B — Williams 27 pass from Smallwood. Rodgers kick.
T — Shawn Marin 9 run. White kick.
B — Jackson 9 run. Rodgers kick.
B — Joe Hilario 15 run. Conversion failed.
T — Garret Elston 1 run. White kick.