Tonganoxie soccer shut out at home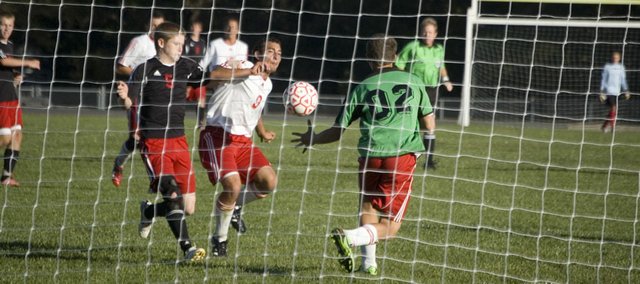 A stale start led to an unwanted first for Tonganoxie High's boys soccer team on Monday against Lansing.
Although the Chieftains had been shut out earlier this season, they had only been blanked on the road before they lost, 3-0, to the Lions in their sixth home match of the year.
Playing in a bit of a haze, THS (1-10) never got things going. That troubled coach Brian Kroll, who didn't know what led to the lackluster loss.
"I have not a clue, not even a little bit of an idea," he said.
The lack of offensive chances further hurt the Chieftains' chances. While Lansing scored goals in the fifth, 61st and 64th minutes and kept THS goalkeeper Cody Martin busy with 11 saves, Tonganoxie only put two shots on goal for the entire match. Matt Saathoff and Joseph Parrino both had their shots go right at Lansing's keeper.
Kroll said he couldn't believe LHS only won by three on one of his team's most off days.
The last time THS was at home, it was able to recover from a halftime deficit and tie the match by coming out with energy early in the second half but even a 1-0 hole against Lansing was insurmountable, Kroll said, because Tonganoxie's passes were either going to the other team or to someone who wasn't ready.
"Our touch was about as bad as it's ever been tonight," the coach said. "Unfortunately, when your first touch is bad there's nothing you can do about it."
Kroll would like to see his team play at the level it is capable of for Tonganoxie's next home match, 4 p.m. Thursday against Bishop Ward, but said a change in team unity would be necessary.
"I would say right now we've got to do a couple of team-building things," he said. "After the last team-building thing that we did, we came out gangbusters and we played well."
With just five matches remaining in the regular season, Kroll wants to get better efforts from the Chieftains.
"Normally, I'm able to get the absolute best out of everybody and for whatever reason I don't know what I'm getting from this group," he said.
Monday marked the fourth shutout loss by THS this season, as well as the team's seventh straight setback.