Mistakes pile up, cost Tonganoxie in home loss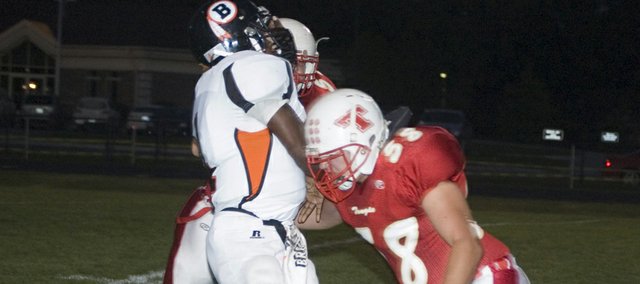 Photo Gallery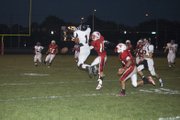 Bonner Springs 41, Tonganoxie 28
Bonner Springs got its first win of the season at Tonganoxie on Friday night with a 41-28 victory.
Lessons rarely are learned in times of enjoyment.
A quick study in mistakes and how they can cost a football team was the result of an undesirable recitation Tonganoxie High received Friday in a 41-28 home loss to Bonner Springs.
One third down in the third quarter for the Chieftains encapsulated a disappointing night. With two penalties and a turnover on a single down, THS, trailing by seven at the time (with about a minute left in the quarter), lost any chance of mounting a comeback.
The previous drive for Tonganoxie (1-4 overall, 1-4 Kaw Valley League) went 61 yards and ended with a nine-yard touchdown run by senior Shawn Marin. After a three-and-out from the Chieftains' defense forced a Braves punt, THS was moving the ball once again when a string of miscues led to the home team's demise.
It appeared sophomore quarterback Garret Elston had just rushed for a first down on a third-and-one quarterback keeper but an illegal shift negated the play that would have provided a fresh set of downs. The next snap, third-and-six, resulted in a false start, backing up the offense once more. On third-and-11, the ball was fumbled and Bonner Springs recovered it.
That doomed third down was the CliffsNotes version of the game, as THS turned the ball over five times — four of which led to BSHS touchdowns — and was penalized on 10 occasions.
Three plays later, the Braves (1-4, 1-4) were in the end zone and took a 35-21 lead.
"Turnovers killed us," THS coach Mark Elston said.
Penalties were nearly as problematic, especially the shift on a quarterback keeper play by Garret Elston that would have been a first down.
"That's normally not a play you spend a lot of time in practice (on)," the coach said. "It's very frustrating, because we were gonna score on that drive. There's no doubt in my mind."
The same play call also had an undesirable result midway through the second quarter. Following what Coach Elston called an "awesome" goal-line stand by Tonganoxie, up 14-7 at the time, starting QB Brady Waldeier fumbled on a keeper on first down and the Braves recovered it on the THS two-yard line. The Chieftains couldn't hold them again. With three runs, the Braves were in the end zone and the game was tied.
Further infuriating the coach with the result was the fact that very same quarterback running play resulted in a safety following a goal-line stand the week before, at Turner.
"That's two weeks in a row where we had a great goal-line stand and one of the simpler plays in the playbook bit us," Elston said, adding the unavailability of some players at practice this past week may have led to a lack of continuity.
The mental mistakes were just as troublesome for the players. Senior running back Ian McClellan, who ran for a team-high 129 yards and a touchdown, said after each costly error he kept asking himself, "What went wrong?"
Between the turnovers and penalties, Garret Elston, who played quarterback in the second half of the loss, said the Chieftains cost themselves a victory.
"When those are the mistakes it's hard, because those are the fundamentals we work on every day," he said. "It's really tough because we knew we could beat them and without those turnovers we would've beat them."
Added McClellan: "It's so frustrating."
Back-to-back penalties followed by a turnover on a critical third down in the third quarter, Garret Elston indicated, eliminated the team's momentum.
"It just depleted it," the quarterback said. "It's the fundamentals. If you don't have them, you don't have anything."
Defensively, Elston, McClellan, Ryan Lynch and AJ Gilbert each were in on a sack and Marin picked off a pass, but the rest of the game was void of the plays it would have taken to avoid extending Tonganoxie's losing streak to four games.
McClellan said the team's tackling was a problem.
"I think everybody needs to work on that," the senior said.
Jeff Sims and Austin Vickers returned to the Chieftains' lineup on Friday and each had an impact. Sims was able to give his team more experience in the secondary and rushed for 28 yards, while Vickers, a receiver, caught a 40-yard pass in the fourth quarter.
First-string quarterback Jeremy Carlisle suited up but was kept off the field as he continues to recover from a foot injury.
At 7 p.m. Friday, THS plays at Lansing (4-1, 4-1).
Score by quarters
BSHS 7 21 7 6 — 41
THS 7 7 7 7 — 28
Scoring
B — Steve Williams 73 pass from Jourdaine Smallwood. Derek Rodgers kick.
T — Ian McClellan 5 run. Amos White kick.
T — Brady Waldeier 1 run. White kick.
B — Johnathan Jackson 1 run. Rodgers kick.
B — Jackson 2 run. Rodgers kick.
B — Williams 27 pass from Smallwood. Rodgers kick.
T — Shawn Marin 9 run. White kick.
B — Jackson 9 run. Rodgers kick.
B — Joe Hilario 15 run. Conversion failed.
T — Garret Elston 1 run. White kick.
THS rushing: Ian McClellan 18-129, Brady Waldeier 16-76, Shawn Marin 9-45, Jeff Sims 9-28, Cody Saladin 2-11, Garret Elston 4-7.
THS passing: Brady Waldeier 2-3-31 (one intercepted), Garret Elston 1-4-40.
THS receiving: Austin Vickers 1-40, Shawn Marin 1-16, Dallas Jacobs 1-15.