Player-coaches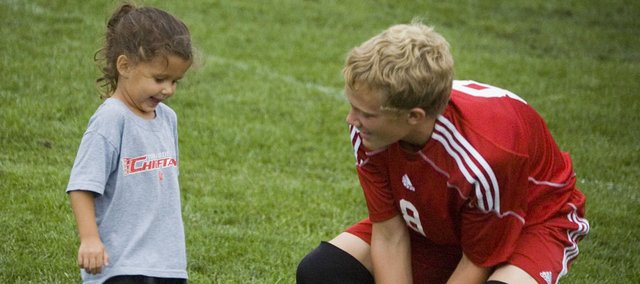 Photo Gallery
Chieftains coach youth soccer teams
Five Tonganoxie High soccer players are coaching youth teams for the Tonganoxie Recreation Commission this fall.
Apparently five days of soccer wasn't giving a few Tonganoxie High players their fill. As if practicing and playing weren't enough, this fall five Chieftains are adding another distinction to their soccer credentials: Coach.
When THS boys soccer coach Brian Kroll learned from the Tonganoxie Recreation Commission that it was short on coaches for its six-and-under league, he figured he could find some in the ranks of his team.
Kroll was right. Junior Tyler Bartholomew, sophomores Conner Kietzmann and Zach Tallent and senior manager Alex Bartels, who plays for the Tonganoxie girls, all volunteered.
Junior Cody Martin would have done so, too, but he was already busy — coaching a 10-and-under team.
It didn't take any coaxing, Kroll said, for the Chieftains to step up and help out.
"It was very easy to get coaches. They're having a blast with it," he said.
Each THS player coaches a team of six or seven youths. They have a game every Saturday for eight weeks.
Less than halfway through the season, Tallent said he has enjoyed watching the players on his team pick up the game.
"The best part about it is just watching them grow as soccer players," the sophomore THS captain said. "I just think that's really cool because I basically can see it before my eyes. At the beginning of the season they couldn't even pass the ball."
This isn't the first time coaching for Martin. He first got involved with a team for his little brother, Garret. Now he is coaching an even younger sibling, Wyatt. The full-time brother/part-time coach said children deserve coaches who have a strong grasp of soccer.
"Not anybody can go out there and teach a kid how to kick the soccer ball around," Martin said. "It takes someone who knows what they're doing to go out and teach them and show them how."
Bartholomew agreed with that notion and reflected on his time as a young, inexperienced player.
"If I would have had someone that actually knew what they were doing… and did the stuff that I am doing (as a coach), I know I could have been 10 times the player that I am now," he said.
The kids, Bartholomew added, are willing learners. The key, though, is grabbing their attention.
"They'll do what you ask them to do to the best they can. It's just their attention spans," he said. "They'll see something, talk to somebody and the whole project's gone, the whole drill."
At 6 — or even 10 — the players would just as soon chase a butterfly or play in the water that is supposed to serve as a drinking fountain as listen to their coach about a soccer drill.
Kietzmann learned that lesson the hard way. He was in the middle of sharing his soccer knowledge when he got a quick reminder about the attention span of 6-year-olds.
"I turned my back for a second and when I turned back around they were all laying down," he related.
He thought it was funny, but to refocus the players he asked: "Do we need to do some running?"
The coach was showered with no's as the team hopped back up.
"They're little kids," Kietzmann explained. "They don't listen as well as your friends at school. You kind of have to give them time."
That can wear on a teenager's patience, Bartholomew said.
"It's a little frustrating at times — I'm not gonna lie — but it's just fun when they do finally get what you're trying to get them to do," he said. "It makes you proud."
According to Bartels, a good trick for connecting with the players is letting loose like a kid.
"You can't be worried about embarrassing yourself, because they only want to listen to you if you're fun to listen to," she said. "You just kind of have to act like a little kid, too, and it works out."
Kroll said the THS players have received glowing reviews for their approach and dedication.
"The parents are eating this up, so the kids must be doing something right," he said.
For the THS players serving as coaches, doing so means sacrificing a lot of free time on the weekends, when they have Saturday games and sometimes practice on Sunday.
However, Tallent said the Chieftains don't mind.
"It's just giving back to the community," he said.
Bartels agreed and said their coaching could help build the THS soccer program for the future.
"Nobody's gonna remember the records for while we were here but if we can help make them better players, we're feeding into our program, too," she said.
More than anything, Martin added, the coaches have an opportunity to make an impact in a young person's life. He said he has been playing soccer since he was a toddler. Now that he's older, he can look back and remember all the names of his coaches through the years.
"I want to be someone's name," Martin said, "when they say, 'I remember him, my U-10 coach.'"