Tonganoxie man wins big on game show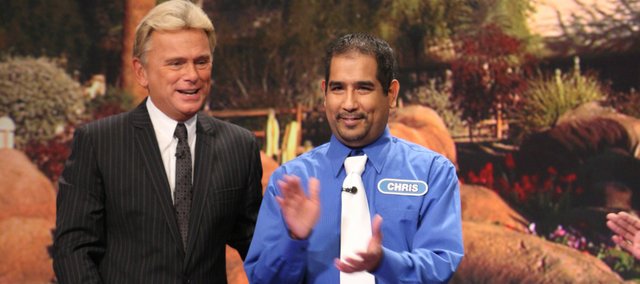 Tonganoxie's Chris Albert owes Pat Sajak a big thank you for his $70,000 winnings.
Albert, who was a contestant on an episode of "Wheel of Fortune" that aired Friday, had $1,000 entering the final round. With time running out, Sajak gave the wheel a final spin. It ended on a $5,000 wedge and another $1,000 was added, so each consonant was worth $6,000.
He solved the puzzle "I see where this is going" with $24,000 in that round, which catapulted him to the bonus round. Albert solved the puzzle "Act of heroism" in the bonus round, which turned out to be worth $45,000.
Sajak joked during the episode that the audience should have been clapping for him instead of Albert because of the $5,000 spin.
"Him spinning the wheel got him a total of nothin'," Sajak said.
Albert landed on "bankrupt" every spin except one, in which he hit $5,000, but the consonant he picked wasn't in the puzzle, so he didn't earn any money.
"I was pretty frustrated," Albert said about his spin continually ending in the bankrupt segment of the wheel. "Honestly, I wanted to quit and go home."
But he bounced back — thanks to a little help from Sajak.
"It was down to the wire; it was pretty cool," Albert said. "I was kind of a comeback story."
He and his wife say they will invest the money on their children, ages 3 and 1.
Albert tried out for the show at a Wheelmobile event in Kansas City, Mo. He flew to Los Angeles for the show's taping in August.
He and his wife say they will invest the money on their children, ages 3 and 1.
"I filled out an application online about a year ago and several months later I got an email — on April Fool's Day — and they said we are having auditions in Kansas City, so I said what the heck and took the day off," Albert said.
When introducing Albert, Sajak referred to Tonganoxie as "my new favorite town."
Reporter Theo Hayes contributed to this story.