Victorious
THS

volleyball wants more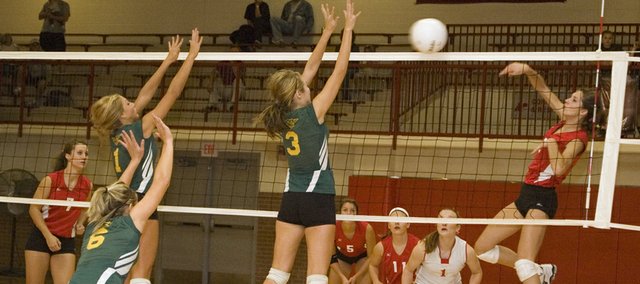 The Tonganoxie High volleyball team is taking a perfectionist approach to its matches these days.
Even after disposing of rival Basehor-Linwood in four games, 25-19, 21-25, 25-21, 25-20, on Tuesday night, the Chieftains looked back at some errors and decided: We can do better.
The second game, a loss, was the focus of much of the team's scrutiny because that's when the mistakes were most glaring.
"After we lost we were pretty mad," junior Brooklyn Kerbaugh said, "'cause we had five serving errors and lost by four. It was more on us."
After trailing early in the first two games, Tonganoxie (16-7) didn't run into that problem again in games three or four. The Chieftains' biggest deficit came in game three, when twice they trailed by a point in the opening moments. But a 4-0 run that included an ace from Haley Smith gave the home team all the distance it needed for the remainder of its second victory in the best-of-five match.
Kerbaugh said she and her teammates wanted to close things out in game four.
"The last one, we definitely had more energy than the first three," she said.
Indeed, with Kailan Kuzmic serving, Tonganoxie jumped out to a 7-0 lead, powered by three kills from Molly O'Hagan and one from Kerbaugh.
A little later, after the Bobcats got closer with a 6-0 run, the Chieftains responded with a 5-1 explosion that featured two big swings for kills by Kuzmic, as well as a Danielle Miller ace and an O'Hagan kill.
THS later closed out the match with two of their final three points coming from, first, a block by Madee Walker, then, an ace courtesy of Sagan Scates.
Tonganoxie has won four matches in a row after picking up victories against Kansas City-Washington and Sumner Academy on Monday. Still, co-coach Brandon Parker said the team isn't quite playing at its best.
"I think there were signs tonight, but still we've got errors," Parker said, bringing up the mistake-filled second game. "We're giving away points, so I don't know if we're giving ourselves a fair chance of showing what we can do, which is unfortunate."
Parker said the Chieftains were able to come through in a couple of stretches, and when they did so it was because they made things simple and executed. That is what he wants to see all the time.
"Sometimes we get in the way of ourselves," Parker said with a laugh.
Kerbaugh said THS has a bad habit of letting a mistake or two derail the team's positive energy and once the Chieftains fix that, they will be in good shape.
"I think we're getting closer and it should be good once we get there," she said.
On Saturday, Tonganoxie plays at the De Soto Spikefest.