5 questions: Marching on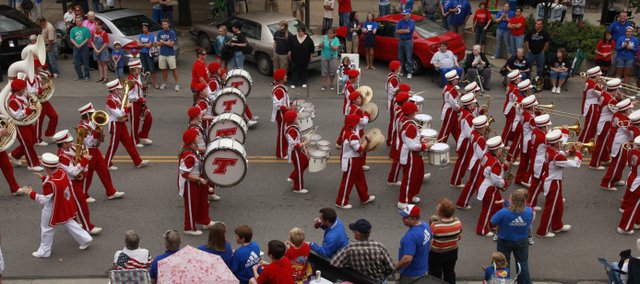 Along with the football season during the fall comes marching band season. Tonganoxie High School band director Charles Van Middlesworth provides a look at what goes into his marching band's show.
Q: How many students are in the band this year, and how does that number compare to previous years?
A: We have 82 in band this year. Last year we had 86. Our numbers keep getting bigger every couple of years.
Q: What kind of work goes into a week of preparing for a halftime show on a Friday night?
A: When we prepare a field show, we begin by studying and rehearsing the music. Once we have the music down, we begin learning the formations on the field. After we know the music and the formations, we begin adding our instrument visuals such as instrument flashes and other forms of enhancing the music and marching. Many hours of planning and preparation bring a field show to life. We usually can put one song with formations on the field in about a week and a half.
Q: Along with home games, what other marching band performances do you have coming up this fall?
A: KU Band Day was Sept. 25, the Baker Marching Festival is coming up Wednesday, Oct. 13, the Maple Leaf Festival Parade is Oct. 16 and the Neewollah parade and marching festival is Oct. 30 in Independence, Kan.
Q: Do you have multiple halftime shows during a football season, or do you perform one specific show each season?
A: We work on one competitive show each marching season. Our show this year is titled "Spy Zone." Our music features songs from some of the greatest spy themes. We are performing "Mission Impossible," a great jazz tune called "Harlem Nocturne," "Peter Gunn," and then music from "007."
Q: What's the best thing about marching each fall?
A: The energy and camaraderie that is created in and during this season. Our students really come together and grow together as a team. This is my favorite aspect of marching season.