McLouth High celebrating homecoming week with movie theme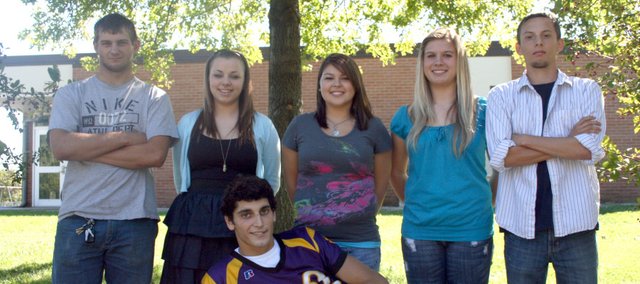 A big tub of popcorn and a soft drink might be appropriate accessories this week at McLouth High School.
Homecoming activities kicked off Monday with this year's theme being "Bulldog Premiere — Movie Madness."
Each day this week, except for Friday's Purple and Gold Day, students are dressing up according to various movie themes.
Monday was Scary Movie Day, while Tuesday was Duo Day. Today is Disney Movie Day and Thursday is Adventure/Science Fiction Day.
Other activities happening throughout the week are class competitions in these events: Project Runway, McLouth's Got Talent, Best Dance Crew, Powder Puff football game and a Buff 'n Tuff volleyball game.
The theme for this year's parade, which starts at 2 p.m. and runs through downtown McLouth, is "Challenge the Chargers" as McLouth will be taking on the Horton Chargers in Friday night's football game. After the parade there will be a tug-o-war among MHS classes, candidate games and a pep rally.
Friday's McLouth-Horton football game will start at 7 p.m., with homecoming royalty crowning taking place at halftime of the game. The MHS band will play as part of halftime festivities, as well.
King candidates this year are Trevor Roberts, Shane Cassatt and Derek Wright; queen candidates are Jenni Blevins, Katy Perry and Logan Terry.
A dance will take place from 9:30 p.m. Friday to 12:30 a.m. Saturday at the high school.