THS

to stage 'Leaving Iowa' this week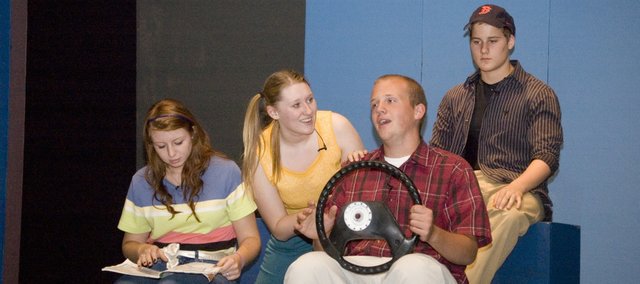 "Leaving Iowa" focuses on a family of four on cross-country road trips.
Tonganoxie High School senior Megan Woods, who plays the part of Mom in the local production, said it's not difficult portraying a family in the play alongside fellow seniors Elliot Brest and Lacie Falk, as well as junior Michael Christensen. That's because the group is like a family away from the set as a tight-knit group.
"We play off each other," Woods said.
The THS Drama Department will stage the play at 7 p.m. Thursday, Friday and Saturday at the Tonganoxie Performing Arts Center on the THS campus.
The play, by Tim Clue and Spike Manton, is the story of Don Browning. He's a middle-aged writer who makes his way back home and decides to finally take his late father's ashes to his childhood home, per his father's request.
Christensen plays the lead of Don Browning, while Brest plays his father and Falk his sister.
The play reverts back and forth from present time to past family road trips. Christensen can be seen often times donning a Boston Red Sox cap in flashbacks during the play.
THS teacher and director Steve Harrell said the play normally is performed with the four main characters and another male role and female role portraying a total of 26 characters.
For this week's performances, there are several THS students who will be reprising the roles of the 22 other characters, which Harrell said can be a challenge. Plus, there are roughly 100 sound cues, Harrell said.
The leading foursome agreed the sound cues can be a challenge, but Christensen noted rehearsal has been going pretty well and that the group will continue to work this week toward the live performances.
When Harrell read the script, he said it had an enduring quality to which he thought the audience could relate.
"I've been on road trips, and I know what this looks like," Harrell said with a laugh.
The play marks the first lead roles for Christensen, Falk and Woods. Brest said play seasons are his favorite portion of the school year.
Other THS students with roles in "Leaving Iowa" are Keith Slater, Paige Lauri, Wes Williams, Sidney Grinter, Mallory Harrell, Tre Hesselman, Chris Tiner, Jake Spencer, Brady Field, Kelsi Briggs, Miranda Bontrager, Nancy Rounda, Kallie Teeter, Caila McPherson, Taylor Lawson, Sara Krapp, Taylor Clark and Madison Hunter.
Tickets are $5 at the door for the play.