Turnovers once again costly for
THS

football
Chieftains' 4th-quarter lead disappears with 3 Lansing takeaways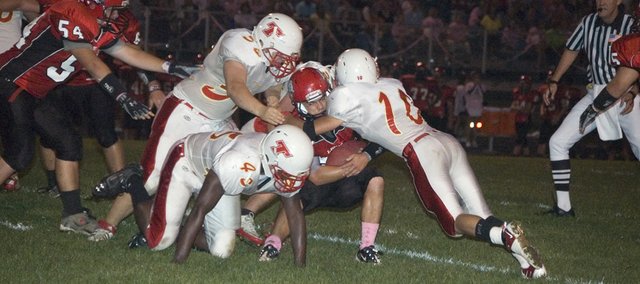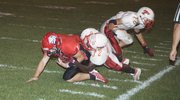 Lansing — One-win Tonganoxie High led one-loss Lansing on the road midway through the fourth quarter before a familiar THS football bugaboo allowed the Lions to take control for a 42-24 victory on Friday night.
The makings of an upset quickly were dashed with three fourth-quarter turnovers by the Chieftains, who turned the ball over five times for the second week in a row.
Lansing (5-1) didn't capitalize after picking up a high snap early in the fourth quarter but later took a 28-24 lead with 4:59 remaining.
On Tonganoxie's next possession, it lost a fumble on the second play and the Lions scored with a 16-yard run by Nick Hughes three downs later.
Already trailing by two scores, the Chieftains fumbled on their third play on the ensuing drive, which led to yet another Lansing TD, this time on a 50-yard run by Spencer Blew.
Although Tonganoxie senior defensive back Shawn Marin stripped an LHS ball carrier and recovered a fumble in the first quarter and senior safety Jeff Sims picked off a pass late in the third quarter, the Chieftains (1-5) finished minus-three in turnovers thanks to not only their late mistakes but also lost fumbles on their first two plays from scrimmage.
Despite those issues, THS actually led most of the third and fourth quarters. Lansing took a brief 21-17 advantage with 8:41 to go in the third but Marin returned the ensuing kickoff 84 yards for a touchdown.
Tonganoxie led at the half, 17-14, thanks to a 27-yard field goal by Amos White in the final seconds of the second quarter.
Prior to the clutch kick, the game was knotted at 14 early in the second quarter thanks to senior Dylan Scates, who caught a quick screen pass from Garret Elston and turned it into a 64-yard TD.
Down 7-0 late in the first quarter, Marin set up an easy, one-play scoring drive for the Chieftains with a 49-yard punt return and Brady Waldeier ran five yards for a touchdown on first-and-goal.
Sophomore defensive end Julius Coats had two sacks against Lansing.
At 7 p.m. Friday, Tonganoxie begins Class 4A district play at Perry-Lecompton.
Score by quarters
THS 7 10 7 0 — 24
LHS 7 7 7 21 — 42
Scoring
L — Spencer Blew 5 run. Brad Brown kick.
T — Brady Waldeier 5 run. Amos White kick.
L — Tyler Terron 6 run. Brown kick.
T — Dylan Scates 64 pass from Garret Elston. White kick.
T — White 27 field goal.
L — Parker Gibson 6 pass from Terron. Brown kick.
T — Shawn Marin 84 kickoff return. White kick.
L — Gibson 53 pass from Terron. Brown kick.
L — Nick Hughes 16 run. Brown kick.
L — Blew 50 run. Brown kick.
THS rushing: Ian McClellan 9-44, Jeff Sims 8-25, Brady Waldeier 4-17, Dylan Scates 4-14, Cody Saladin 2-7, Shawn Marin 4-3, Garret Elston 8-minus-9.
THS passing: Garret Elston 6-9-99, Shawn Marin 1-1-20.
THS receiving: Dylan Scates 2-77, Austin Vickers 3-39, Shawn Marin 1-2, Jeff Sims 1-1.