High energy Chieftains 3rd at De Soto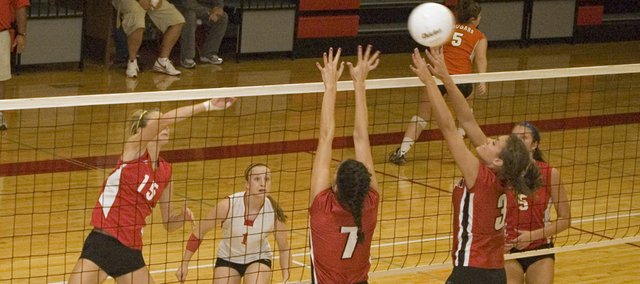 De Soto Spikefest Scores
Pool play
Spring Hill, W 25-10, 20-25, 25-23
Central Heights, L 21-25, 25-21, 25-17
Baldwin, W 25-18, 25-16
Basehor-Linwood, W 25-18, 25-16
Semis
Lansing, L 25-15, 25-23
3rd place
Central Heights, W 25-23, 25-21
Playing with abundant energy, the Tonganoxie High volleyball team took third place at the De Soto Spikefest on Saturday.
Though the Chieftains lost to Central Heights in pool play and Kaw Valley League rival Lansing in the semifinals, they were able to finish 4-2 with a victory against CHHS in the tournament's third-place match.
THS co-coach Brandon Parker said the team showed some progress and, for the most part, avoided lulls that hampered it in the past.
"We had a few moments but not as many as we had been having," Parker said of the squad's limited miscues. "I thought our energy was better for the entire day than it has been."
Energy, the coach added, always is crucial in volleyball, and Tonganoxie (20-9) needs to play with vitality every time it takes the court.
"Hopefully, we always try to understand that the game that we're playing is important," Parker said.
The Chieftains had plenty of motivators in bracket play. Obviously, the allure of making the finals easily lends to intensity in the semis and even after THS ended up in the third-place match, factors such as seeding for sub-state, finishing third and knocking off a team it had lost to earlier in the day led the team to a win.
Senior Danielle Miller said she and her teammates had to stay positive after falling to Lansing, because if they didn't they were bound to fail.
"After losing that semifinal, going into that third-place game we've got to have a positive attitude, say it's a new game and move on," she said.
Junior Megan Hummelgaard said the Chieftains weren't without their lulls at De Soto, but avoided many letdowns by staying vocal.
"Talking when we're playing helps us a lot," the team's libero said. "If we keep upbeat, cheering each other on, that helps us maintain our energy."
The team's passing, Hummelgaard added, was a big part of a successful Saturday. She said sophomore setter Hannah Kemp did a good job of turning those passes into points by putting the hitters in good position.
Tonganoxie's service, Parker said, supplemented the improved passing.
"When we do those two well, we're going to be in about every game regardless of who we're playing," the coach said.
THS will see plenty of opponents this week, with a couple of triangulars before Saturday's KVL Tournament at Bonner Springs.
Parker said the Chieftains are motivated for the league tourney, because they want to win it and finally defeat LHS (2-0 versus Tonganoxie this season) before playing host to a sub-state tournament a week later.
"Not that league's never been a priority — because it has, you always want to win — but for this group right now, league's a big step," Parker said.
Miller said THS wants as many victories as it can get on Saturday.
"Right now we're looking for wins for seeding, obviously," she said, referring to sub-state.
However, Hummelgaard noted, the team's focus on sub-state won't deter its play in the KVL tourney.
"For both tournaments, with our energy, we're ready to go," she said.
THS plays at 5 p.m. Tuesday at Perry-Lecompton. At 5 p.m. Thursday, Tonganoxie will play host to Baldwin and Bishop Ward.
At 8 a.m. Saturday at Bonner Springs, the KVL Tournament begins with pool play.