Tough loss has tasty tidbits for
THS

football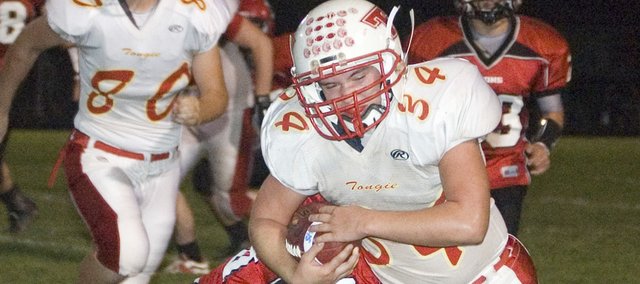 Photo Gallery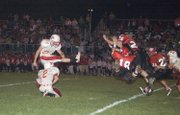 Lansing 42, Tonganoxie 24
The Tonganoxie High football team suffered its fifth straight loss on Friday with a 42-24 setback at Lansing.
District Slate
The Tonganoxie High football team begins its three-week district schedule this Friday.
Friday — at Perry-Lecompton (4-2)
Oct. 22 — Basehor-Linwood (6-0)
Oct. 28 — Jeff West (3-3)
Lansing — Seeing as how it's what's between two pieces of bread that make a sandwich tasty, members of the Tonganoxie High football team couldn't help salivating a little about the meat and toppings that made up a 42-24 road loss at Lansing on Friday.
The game's slabs of bread — the start and finish — weren't even edible for the Chieftains, who spat up turnovers on their first two plays from scrimmage and had three more plays spoiled with Lansing takeaways in the fourth quarter.
Still, everything in between, when Tonganoxie outscored the Lions 24-14, was mouth-watering for a 1-5 THS squad that hasn't tasted victory since the season opener on Sept. 3.
The disastrous start to the game for the Chieftains easily could have knocked them into a stupor. Brady Waldeier slipped at the THS nine-yard line while returning the opening kickoff and on first down Tonganoxie coughed up the ball for its first of five turnovers, three of which led to LHS (5-1) scoring drives.
Just 17 seconds in, Tonganoxie was in a 7-0 hole. Then came another fumble on the team's second offensive snap. Dylan Scates didn't hold on to a pitch from sophomore quarterback Garret Elston on a reverse and Lansing was well on its way to dismantling the mistake-prone visitors.
However, THS coach Mark Elston said, the Chieftains didn't allow that demoralizing early hole to be their undoing.
"I was really proud of our kids after our opening kickoff," he said. "We could've said, 'Oh, here we go again,' and laid down and been down 50-0 real quick but our kids fought and they were confident."
Elston told the players before the game that they could give the Lions a run for their money and because the horrid start was mainly the result of mental mistakes, Scates said, the team remained confident.
"For me at least, I just took my eye off the ball for one second," Scates, who returned to the lineup after missing a week with a left shoulder injury, said. "We just pulled together and I think our core seniors really stepped up this game and that's been lacking in the games past."
The senior leadership began to materialize in the first quarter, when Shawn Marin ripped the ball out of an LHS ball carrier's hands and held on to it for a fumble recovery.
Although Tonganoxie couldn't score on the following possession, Marin changed the game once more on a punt return with just more than a minute to go in the quarter. His 49-yard return set up a redeeming five-yard touchdown run for Waldeier and a 7-7 tie.
After Lansing regained the lead in the opening minutes of the second quarter, it was Scates' turn for redemption. On the second play of the ensuing drive, the senior lined up wide left and caught a screen pass from Elston, then cut to the middle before scooting down the right sideline for a 64-yard touchdown.
The hits kept coming for Tonganoxie seniors. Safety Jeff Sims, who picked off a pass in the third quarter, also lit up an LHS receiver, forcing an incompletion late in the first half. Cornerback Adrian Whittington twice perfectly covered his man and knocked a pass attempt to the turf. Linebacker Ian McClellan got in the backfield for a sack.
Then there was Marin, the playmaker du jour versus Lansing. On a play late in the second quarter that looked doomed once a bad snap that quarterback Elston couldn't control went bounding backward, Marin scooped up the ball and had the presence of mind and skill to gather it up on the run and sling it downfield to fellow senior Austin Vickers, who shrugged off an early hit (and defensive pass interference call) to bring down a 20-yard completion on the right sideline. The miraculous play led to a 27-yard field goal for junior Amos White in the quarter's final seconds, giving THS a 17-14 halftime lead.
Marin was at it again in the third quarter after LHS took a momentary 21-17 advantage. The elusive senior returner fielded the ensuing kickoff at the 16-yard line and took it 84 yards for a score and the lead, which the Chieftains maintained for the next 15:26 of the game.
Coach Elston said the improved play for most of the loss was the direct result of better effort at practices.
"Kids were fighting hard in practice and we got after it," he said. "We do keep getting better each week.
"The turnovers are killing us."
A good chunk of Tonganoxie's improvement comes from non-seniors, too. Sophomore defensive end Julius Coats was a headache for Lansing with a ton of pressure in the backfield and two sacks. Junior Dallas Jacobs had the best punt of his career in the second quarter, booting one 54 yards and swinging field position in Tonganoxie's favor. Juniors Adam Thomas and Ryan Lynch also made key tackles for THS.
Having that many contributors pleased the team's coach.
"If you would've told me at the beginning of the year that Julius was going to be a starting defensive end and Adam Thomas was going to be an outside linebacker and some of the people that have stepped up and improved week to week, I probably would've told you that you're crazy," Elston said.
Although Lansing scored three touchdowns in the final five minutes of the fourth quarter, when THS had two of its turnovers, the Chieftains left Lansing convinced they had played at a high level most of the night. Scates said the only comparable performance this year was the season-opening rout of Bishop Ward.
"It's the best in a while at least," he said.
His coach took it a step further.
"We played, I think, probably better than we've played all season," Elston said. "If we have everybody ready to go next week, it's a new season now."
By that, Elston was referring to district play, which begins at 7 p.m. Friday for Tonganoxie, when it begins its road clash with Perry-Lecompton (4-2).
Score by quarters
THS 7 10 7 0 — 24
LHS 7 7 7 21 — 42
Scoring
L — Spencer Blew 5 run. Brad Brown kick.
T — Brady Waldeier 5 run. Amos White kick.
L — Tyler Terron 6 run. Brown kick.
T — Dylan Scates 64 pass from Garret Elston. White kick.
T — White 27 field goal.
L — Parker Gibson 6 pass from Terron. Brown kick.
T — Shawn Marin 84 kickoff return. White kick.
L — Gibson 53 pass from Terron. Brown kick.
L — Nick Hughes 16 run. Brown kick.
L — Blew 50 run. Brown kick.
THS rushing: Ian McClellan 9-44, Jeff Sims 8-25, Brady Waldeier 4-17, Dylan Scates 4-14, Cody Saladin 2-7, Shawn Marin 4-3, Garret Elston 8-minus-9.
THS passing: Garret Elston 6-9-99, Shawn Marin 1-1-20.
THS receiving: Dylan Scates 2-77, Austin Vickers 3-39, Shawn Marin 1-2, Jeff Sims 1-1.