Students help with Linwood Community Library move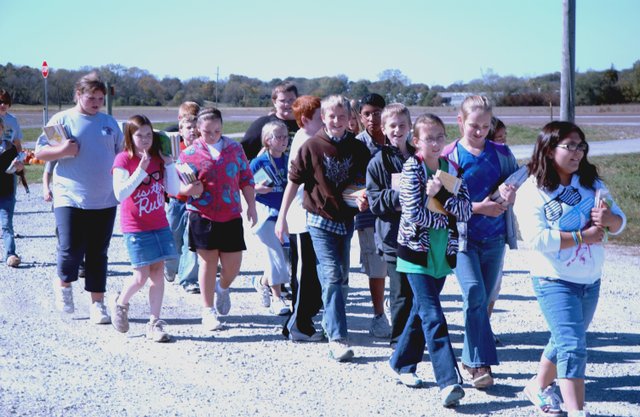 It wasn't the most efficient way to transfer books to Linwood Community Library's new building, but it was popular and meaningful.
On Thursday afternoon, a column of Linwood Elementary School students walked the about seven blocks from the old library downtown to the community's newly remodeled library on Kansas Highway 32 in the east part of the southern Leavenworth County community. The students all carried books from the library's children's collection to the new site.
Linwood library director Sue Peavy said several people suggested the student book caravan.
"It's a good way to show them how to get to the new library and get them to take ownership in it," she said. "Some of the kids said, 'She worked at the old library.' They were surprised we were going to have the same staff."
Students also were aware the young readers' area was the kitchen of in the building's recent days as a café, Peavy said. The four-month renovation was a community project, she said.
As part of that effort, the Linwood Lions Club spent two hours Saturday moving all but the books the students moved Thursday, Peavy said.
The students arrived as workers finished a punch list of final remodeling details. An open house for the new library will be at 2 p.m. Sunday and the new building will open Monday.
The new site's 3,500 square feet is double the public space available at the downtown site, Peavy said.