THS

volleyball disappointed with 3rd at

KVL
Chieftains planned to play in tourney final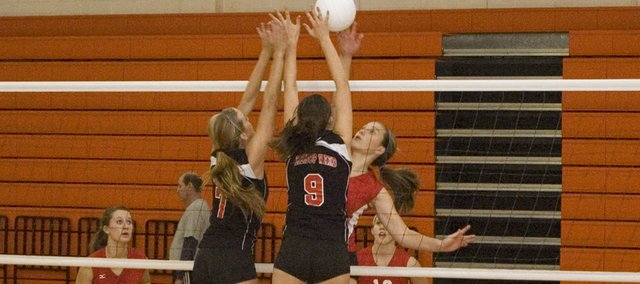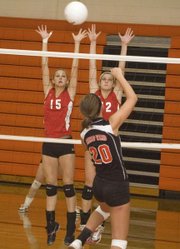 THS KVL Results
Pool play
Basehor-Linwood, W 25-18, 25-11
Bonner Springs, W 25-12, 25-19
Bishop Ward, W 26-24, 25-18
Semifinal
Mill Valley, L 25-22, 25-22
Third-place match
Bishop Ward, W 25-17, 25-20
Bonner Springs — With championship match aspirations dashed, the Tonganoxie High volleyball team left the Kaw Valley League Tournament disappointed with its third-place finish Saturday.
The Chieftains arrived at Bonner Springs expecting not only to win their pool and earn a spot in the KVL final against Lansing but also win a league title.
THS only accomplished the first of those three goals thanks to a 25-22, 25-22 loss to Mill Valley in a semifinal.
The Chieftains settled for third place and ended the day by defeating Bishop Ward in straight games, 25-17, 25-20, but they certainly weren't excited about the outcome.
"We were coming in here to win a league title," Tonganoxie co-coach Brandon Parker said, "but we didn't play the semifinals like a team that wanted to win a league title."
The loss to Mill Valley also was discouraging for THS (28-10) because it defeated the Jaguars less than three weeks ago at a home triangular.
Both semifinal games with MVHS were tight but Tonganoxie couldn't get over the hump. The Chieftains were down 20-17 in the first game before a few key plays — a Jenny Whitledge kill, Danielle Miller ace and Molly O'Hagan dig — led them to a 22-22 tie, but Mill Valley scored the next three points to win.
THS led 14-13 in the second game before the Jags closed the match with a 12-8 run. In that last stretch, Tonganoxie stayed close with a block by Brooklyn Kerbaugh, two kills apiece from O'Hagan and Whitledge and a Sagan Scates ace.
The Chieftains knocked off Bishop Ward for the second time Saturday in the third-place match with consistent play at the net from Kailan Kuzmic, Kerbaugh, Whitledge and O'Hagan.
At 7 p.m. Tuesday, Tonganoxie will be back at Bonner Springs for a dual with the Braves.
Then comes sub-state, to which THS will play host, beginning at 1 p.m. next Saturday.