Tonganoxie soccer 'woke up' late in 5-0 loss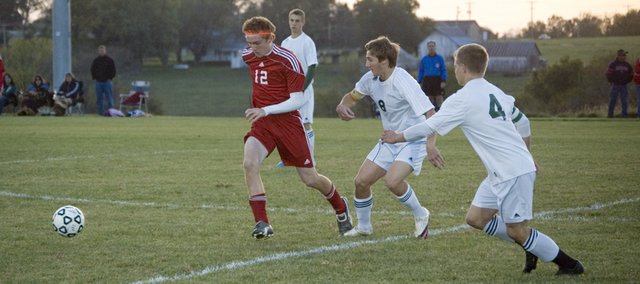 Basehor — Maybe the Tonganoxie High boys soccer team forgot to set a wake-up alarm.
According to Chieftains coach Brian Kroll, the team's drowsy effort to start a Monday road match at Basehor-Linwood ended up costing the team in a 5-0 loss.
"Twenty minutes into the first half, then we woke up," Kroll said.
Unfortunately for THS, which lost its 11th consecutive match, the Bobcats were wide awake from the opening kick, scoring their first goal 25 seconds in and adding another in the sixth minute.
Their lively legs kept Tonganoxie goalkeeper Keaton Truesdell from napping as he saw 20 shots come his way, saving 15 of them.
The Chieftains (1-14) put 10 shots on goal but couldn't get one in the back of the net.
A couple of their chances were a bit unlucky. With just two minutes to play in the first half, Cody Martin hammered a shot off the left side of the crossbar that would have been a goal had it traveled just inches lower. Much later, in the 68th minute, Evan Stilgenbauer sent a pretty cross toward the middle while streaking up the right side. Evan Lott controlled the pass and put a solid boot on a shot that sailed just wide.
That was the way things went for THS in the loss. All the other looks for the road team were either right at the keeper or didn't have enough on them or both. Joseph Parrino, Matt Saathoff, Colton Young and Stilgenbauer all saw shots misfire.
A big problem for Tonganoxie throughout the setback, Kroll said, was the team's inability to move the ball with a group of players. One or two guys could push the ball forward but the coach said things often "kind of fell apart" when they tried to incorporate more players. He would like for that to change as the team heads into its regular-season finale on Thursday.
"I'm looking to see if we can get more than two people involved in a play," Kroll said. "When we had more than two people involved out here, we did pretty well transitioning the ball."
Tonganoxie's final home match of the season, Senior Night, is at 4 p.m. Thursday against Leavenworth.
The Chieftains will then play in a regional tournament opening-round match on Monday. With just one victory, THS is guaranteed the bottom seed, No. 15. Its opponent, the No. 10 seed, will be announced on Saturday. The match will be on the road.