Chieftains surrender 21-point lead at Perry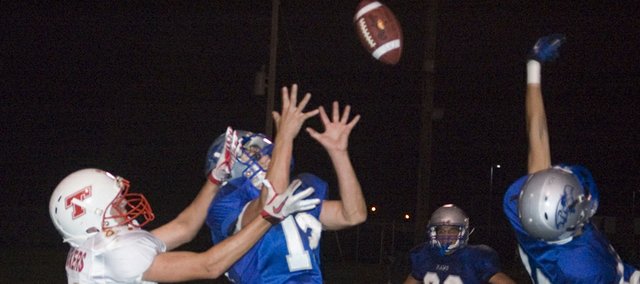 DISTRICT BREAKDOWN
Week 1
Basehor-Linwood 35, Jeff West 12
Perry-Lecompton 55, Tonganoxie 35
Standings
(Team, record, point differential)
tie-1. Basehor-Linwood, 1-0, +13
tie-1. Perry-Lecompton, 1-0, + 13
tie-2. Jeff West, 0-1, -13
tie-2. Tonganoxie, 0-1, -13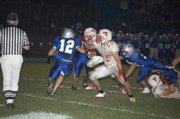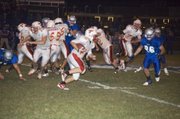 Perry — A glimmer of promise morphed into gloom for the Tonganoxie High football team on Friday. The Chieftains couldn't hold on to a two-score halftime lead in their district opener and lost, 55-35, at Perry-Lecompton.
What was a 21-point THS advantage in the opening minutes of the second quarter and a 27-14 halftime lead disappeared and turned into a 20-point loss after a dominating second half authored by the Kaws' ground attack.
Perry-Lecompton running back Luke Kellum gouged Tonganoxie for touchdown runs of 73, 44 and 10 yards in the second half alone and finished the game with 266 yards and five scores on 21 carries.
With senior quarterback Jeremy Carlisle back in the lineup after missing four games and a couple of big special teams plays in the first quarter — freshman Shane Levy tackled the Kaws' punter and Dallas Jacobs recovered a muffed kickoff return — setting up Chieftains scoring drives, it looked as though THS (1-6) might get its first victory since Sept. 3, the season opener. Instead the losing skid hit six, which was a result, Carlisle said, of the team's lack of inspired play in the second half.
"It's just difficult to see that our team didn't come out to play," said Carlisle, who rushed for 90 of his103 yards in the first half. "Nobody really came out and wanted to win the second half. We played to not lose. We didn't play to win. We came out passive and unaggressive and that showed up on both offense and defense."
The Chieftains' lack of second-half points — they scored eight in the fourth quarter with a five-yard TD run by Dylan Scates and a pass from Carlisle to Shawn Marin for a two-point conversion — can be chalked up to three crucial third-quarter plays. Twice, Carlisle was stuffed by the Kaws (5-2) on fourth-and-inches carries and the senior quarterback lost a fumble with 24 seconds to go in the third. Those misfortunes came on three consecutive possessions and the team's 27-22 lead became a 43-27 hole as PLHS capitalized with Kellum touchdowns on each ensuing drive.
THS coach Mark Elston said his team seemingly hits a hazardous patch like that at some point during each game.
"It's been like that every week, where we have a three-minute stretch that just nothing seems to go the way it's gone the other 20 minutes prior to," Elston said.
Senior Dylan Scates, who finished with 153 yards from scrimmage and three touchdowns (one on a reception), said Tonganoxie's offense and defense were both to blame after blowing the lead.
"Our 'D' in the first half was a lot better and we shouldn't have played the way we played," he said, "there's no excuse for that."
The worst part of the whole ordeal was that the Chieftains could have been 1-0 in district play with a win and in good position to make the playoffs. Instead, they are 0-1 with a home game against undefeated Basehor-Linwood coming up on Friday.
Said Elston: "It's more of a do-or-die game for us but we know every game is highly important to us."
Carlisle said the team was aware of the hole it would have to climb out of to secure one of the district's top two spots and a postseason berth.
"It's rough, but then again, we know that we can beat any team that we see and we're not afraid to go play Basehor and we're not afraid to play Jeff West," he said of the team's two remaining opponents.
THS plays host to Basehor-Linwood at 7 p.m. Friday at Beatty Field.
Score by quarters
THS 14 13 0 8 — 35
PLHS 0 14 22 19 — 55
Scoring
T — Brady Waldeier 12 run. Amos White kick.
T — Dylan Scates 21 pass from Jeremy Carlisle. White kick.
T — Carlisle 44 run. White kick.
P — Luke Kellum 1 run. Taylor Akagi kick.
T — Scates 5 run. White kick failed.
P — Kellum 8 run. Akagi kick.
P — Jeremy Immenschuh 3 run. Immenschuh run.
P — Kellum 73 run. Akagi kick.
P — Kellum 44 run. Akagi kick.
P — Kellum 10 run. Akagi kick.
T — Scates 5 run. Shawn Marin pass from Carlisle.
P — Dalton Bahnmaier 4 run. Akagi kick failed.
P — Bahnmaier 60 run. Jonathan Weis Hjoellund kick failed.
THS rushing: Jeremy Carlisle 24-103, Dylan Scates 19-99, Brady Waldeier 8-49, Cody Saladin 6-34, Jeff Sims 1-7, Shawn Marin 1- minus-1.
THS passing: Jeremy Carlisle 12-23-176 one intercepted.
THS receiving: Austin Vickers 7-113, Dylan Scates 3-54, Brady Waldeier 2-9.