County commission may axe administrator job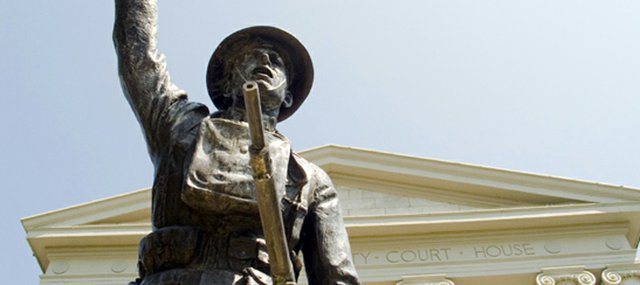 After Heather Morgan leaves the Leavenworth County government at the end of this week, she may go in the books not only as the county's first administrator, but also as its last one.
Morgan announced last week that she would resign from the county administrator position to take a private-sector job, spurring much discussion from the County Commission on the future of the position at its Thursday and Monday meetings. At its meeting on Thursday of this week, the commission will consider a proposal from commissioner J.C. Tellefson to replace the administrator job with a different, stripped-down position – perhaps a director of budget and staff.
"I think that where we are right now is kind of in a limbo area," Tellefson said Monday. "We're not big enough to really have a huge finance department. We're really too big to not have anybody."
Morgan was hired after the commission approved a resolution creating the county administrator job in 2008. Two ballot initiatives to create the position, in 1998 and 2002, failed.
At the Thursday, Oct. 14 meeting, Tellefson had made a motion to place another initiative on the April 2011 general election ballot to seek voter approval for the administrator position, saying he wanted to fulfill a campaign promise. But on Monday, he said he'd determined that he had already fulfilled that promise by pushing for an initiative in 2007, so he changed course to push for the new, stripped-down position.
Tellefson's commission seat, from the First District, in the northern part of the county, is up for election in November, and Tellefson is not running for re-election.
The commission opted to wait until Thursday's meeting to make a decision on the possible position and a job description for it, after commissioner Clyde Graeber asked for time to review Tellefson's draft job description.
At the last two commission meetings, several county residents spoke against the county administrator position, saying they did not even want it put forth for voters' approval after it failed twice before.
County resident Al Stevens said at Monday's meeting he opposed the administrator job because he wanted the commission to shrink the county government.
"It's a bad idea," Stevens said. "People have said 'No' repeatedly."