Interstate race awaits senior Hauk
Rachford runs to top-10 finish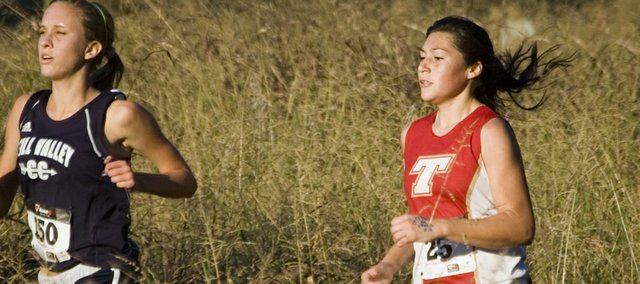 Photo Gallery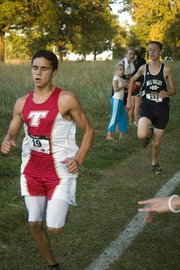 Tonganoxie cross country at KVL
The Tonganoxie High cross country teams ran at the Kaw Valley League Meet at Wyandotte County Park on Thursday.
Bonner Springs — When Tonganoxie High senior Alex Hauk hit the cross country trails Thursday at Wyandotte County Park, she was a bit flurried with her mind preoccupied.
Not only was this going to be her final Kaw Valley League Championship race, but it could very well end up going down as her last hurrah as a Chieftains cross country runner.
"I had a lot on my plate," Hauk said after placing 18th.
Although THS, which took sixth place in the team standings at the KVL race, will compete in a Class 4A regional meet this Saturday, Hauk doesn't know whether she'll be there, laced up and ready to run. She will be in Indianapolis this week with some classmates for the National Future Farmers of America Convention.
Hauk said she hopes to be back at Wyandotte County Park for the regional but in order to do that, she'll have to successfully race back from Indiana via the interstate on Saturday.
"I'm gonna try to make it back. Indianapolis is eight hours away and we're leaving at 6 o'clock that morning," she said, adding she has taken stops into account for the timing of the trip and thinks she could be back by 2:30 p.m. or 3, before the race begins at 4.
That is Hauk's hope, though she said she isn't making any promises.
"I'm gonna try to do what's best for my team. I don't want to show up and not be prepared," she said.
The only member of the girls team with regional experience, Hauk said she wants to be on top of her game — if she can run — for her young teammates.
"I know they look up to me," she said. "If I come, I want to be at my best."
Rachford finishes 8th
The Tonganoxie boys team's top runner, junior Patrick Rachford, was successful on a couple of fronts at the KVL meet.
His eighth-place finish in 17:30 matched a personal record and earned him a medal, which was nice. Sticking it to a rival, though, was a bonus.
Rachford said he heard about a deal Basehor-Linwood runners had with their coach.
"I guess their coach said if they don't beat a Tongie runner, like me, they have to run extra at practice," he related. "And so far this year they've had to run even more, because they haven't gotten in front of me once."
The Bobcats' Jonathan Olivia, who finished 10th, seven seconds behind Rachford, gave him a little scare but the Chieftains' pacesetter was able to break away from his rival in the final mile.
Rachford said it is hard to compare various races because the courses differ, but he thought he could have done better on Thursday.
"I didn't feel like I ran that hard for some reason," he said.
That wasn't the case for his teammate Dalton Harrington, however. The THS junior finished 14th, helping the boys finish fifth in the team standings.
"It's the end of the season and I just feel like I've got to go all out so I can try and make it to state," Harrington said.
Coach disappointed in scores
Tonganoxie coach Phil Williams thought both the girls and boys could have placed higher in the KVL team standings.
"Overall, it was a pretty disappointing day for both," he said.
Stomach problems slowed down Emily Soetaert in the girls 4K, the coach said, but that wasn't the only problem.
"Most of the other girls didn't have a particularly good race, either, though, so it wasn't just one person," Williams said.
The boys, too, didn't live up to their standards, he added.
"The boys, for the first time this year, really didn't run anywhere near their potential," the coach said, noting Harrington may have been the exception.
"Hopefully, this will fire them up for next week," Williams said, referring to the regional. "We could have easily been third, including beating Lansing, if (the boys) had just run an average race."
Tonganoxie's cross country teams will compete in a regional Saturday at Wyandotte County Park. The girls race starts at 4 p.m. and the boys race follows at 4:30.
KVL Championship
Thursday at Wyandotte County Park
Girls 4K
Team scores: 1. Lansing, 24; 2. Mill Valley, 56; 3. Basehor-Linwood, 75; 4. Bonner Springs, 118; 5. Bishop Ward, 121; 6. Tonganoxie, 127.
Top 10: 1. Ashtin Kurz, LHS, 15:35; 2. Amy Redden, LHS 16:11; 3. Bailey Parke, MVHS, 16:16; 4. Nashia Baker, LHS, 16:17; 5. Ali Laney, BLHS, 16:33; 6. Scintila Capalla, Turner, 16:46; 7. Malika Baker, LHS, 16:53; 8. Frankie Oropeza, BWHS, 17:00; 9. Maegann Parsons, MVHS, 147; 10. Maggie Hornick, LHS, 17:05.
THS results: 18. Alex Hauk, 17:32; 25. Emma Stilgenbauer, 17:58; 26. Taylar Morgan, 18:02; 27. Parker Osborne, 18:10; 35. Grae Wilbanks, 18:58; 36. Emily Soetaert, 19:16.
Boys 5K
Team scores: 1. Mill Valley, 32; 2. Turner, 69; 3. Lansing, 91; 4. Basehor-Linwood, 93; 5. Tonganoxie, 107; 6. Bonner Springs, 113.
Top 10: 1. Pete LaMoe, LHS, 16:37; 2. Landon Scott, MVHS, 17:08; 3. Russell Brown, Turner, 17:10; 4. Aaron Potter, LHS, 17:11; 5. Brett Schmit, MVHS, 17:15; 6. Chris Gillespie, MVHS, 17:17; 7. Conner Mahalovich, MVHS, 17:28; 8. Patrick Rachford, Tonganoxie, 17:30; 9. Edward Reed, Turner, 17:32; 10. Jonathan Olivia, BLHS, 17:37.
THS results: 8. Patrick Rachford, 17:30; 14. Dalton Harrington, 17:50; 27. Caleb Himpel, 18:40; 30. Clayton Himpel, 19:06; 32. Brady Field, 19:13; 35. Jeff Neal, 19:31; 36. Keith Slater, 19:31.