Title shot snatched away
Chieftains not themselves in
KVL

semifinal loss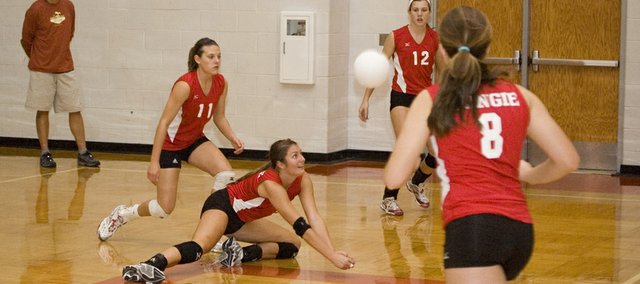 THS KVL RESULTS
Pool play
Basehor-Linwood, W 25-18, 25-11
Bonner Springs, W 25-12, 25-19
Bishop Ward, W 26-24, 25-18
Semifinal
Mill Valley, L 25-22, 25-22
Third-place match
Bishop Ward, W 25-17, 25-20
Photo Gallery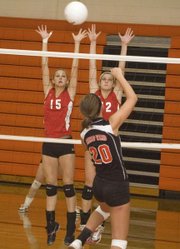 THS volleyball 3rd at KVL
The Tonganoxie High volleyball team went 4-1 at the Kaw Valley League Tournament on Saturday to finish third.
KVL BRACKETS
Championship bracket
Semifinals
Lansing def. Bishop Ward, 25-20, 25-10
Mill Valley def. Tonganoxie, 25-20, 25-22
Championship
Lansing def. Mill Valley, 25-18, 22-25, 25-19
Third place
Tonganoxie def. Bishop Ward, 25-17, 25-21
Consolation bracket
Semifinals
Piper def. Basehor-Linwood, 25-22, 25-19
Bonner Springs def. Turner, 25-11, 25-27, 25-11
Fifth place
Bonner Springs def. Piper, 25-15, 11-25, 26-24
Seventh place
Basehor-Linwood def. Turner, 25-22, 25-23
Bonner Springs — If the Tonganoxie High volleyball team was starring in a film about its afternoon at the Kaw Valley League Tournament on Saturday, it would be titled "Invasion of the Body Snatchers."
The Chieftains rolled into the KVL semifinals on an eight-match winning streak powered by a style of play suitable for a league championship squad. Energy, confidence and teamwork made them just about unbeatable.
However, THS co-coach Brandon Parker said, that winning approach went missing in a 25-22, 25-22 semifinal loss to Mill Valley during which the players didn't look like themselves and Tonganoxie, begrudgingly, took third place at the postseason tourney.
"For whatever reason we didn't come out with the energy needed," Parker said of the team's semifinal performance. "We didn't communicate, we kind of froze a little bit and that's been kind of atypical for us the last couple of weeks."
Disgruntled about the loss to Mill Valley, the Chieftains were more stoic than exuberant in a victory against Bishop Ward in the tournament's third-place match. With THS playing host to a sub-state tournament this Saturday, Parker said the team needed the win against Ward for seeding but there was little else to be happy about after finishing third.
"We didn't come here for third place," he said. "In some years you'd say, 'That's awesome,' but that's not what we came for."
Senior Molly O'Hagan, who had 12 kills in the loss to the Jaguars, said it was difficult to feel anything besides disappointment, because Tonganoxie wanted to play Lansing (which won the tournament) in the final.
"We played hard all morning and it was our goal to go (undefeated) this week and get the second seed at sub-state and that's what we've been fighting for," she said. "A league championship is a big deal."
At various points in the loss to MVHS, the Chieftains (28-10) did resemble themselves. Hannah Kemp set teammates up for kills, Danielle Miller and Brooklyn Kerbaugh stuffed Jaguars attacks with blocks, Jenny Whitledge, Haley Smith, Sagan Scates and Miller served up aces and libero Megan Hummelgaard hustled for digs and passes on the back row. However, O'Hagan said Mill Valley just showed more desire and Parker agreed.
"Yeah, we got back into it and we showed some guts with it," the coach said, "but if we're going to be where it is we want to be, we have to play well all the time. No excuses. Nothing. If another team has more passion than you, then bad for us — that's our fault.
"You get to this time of year, it's time to go. Us as a team, coaches, whatever it may be, we didn't go."
THS will have to get over the sting of failing to win the KVL title and find its confidence in a hurry, because its sub-state bracket features the No. 1 team in Class 4A, undefeated St. James Academy.
O'Hagan said one area in particular would go a long way toward mending any shortcomings.
"We have to maintain our energy throughout an entire game and that's not happening," she said.
Parker said the team would have to do not only that but also kick its overall game up a few notches for sub-state.
"Hopefully, next Saturday (we will) play our best ball of the year," he said. "We were hoping it would be this Saturday and it wasn't."
The Chieftains finish their regular season with a dual at Bonner Springs Tuesday.
Tonganoxie's sub-state tournament begins at 1 p.m. on Saturday at THS. Sub-state brackets will be announced Wednesday. Check back here, at tonganoxiemirror.com, for details on matchups.