Carpenter hopes second retirement successful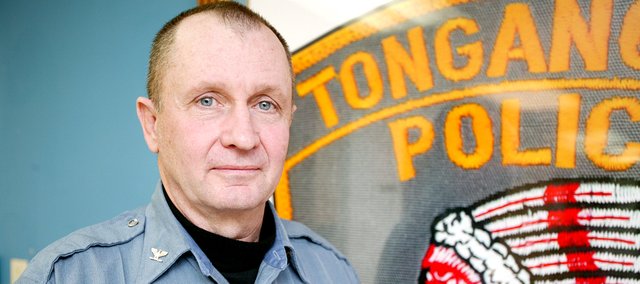 Tonganoxie retiring Police Chief Kenny Carpenter said he had little but common sense going for him back when he started in 1972 as a deputy for the Wyandotte County Sheriff's Office.
"When I first started, I rode along with another officer one day and the next day was given the keys to a car, a map of the county and was told to go out and do great things," he said. "I had no firearms qualifications. The sheriff basically asked me if I had a weapon and told me to bring it."
It would "scare me to death" to put such an untrained officer on the streets of Tonganoxie for on-the-job training, much less those in Wyandotte County he was asked to patrol, said Carpenter, whose last day on the job in Tonganoxie will be Friday. But, he said, that was common practice four decades ago, when new officers didn't attend the state policy academy near Hutchinson for up to four or five months after they were hired and received much less training when they got there.
As a measure of how much things have changed, Carpenter as chief of Tonganoxie started an academy for raw part-time officers, which is certified by the Kansas Law Enforcement Center and draws rookies from other area departments.
39 years of service
The level of officer professionalism and training is just one of the changes he has witnessed in a 39-year law enforcement career, which has seen him be police chief of two Kansas cities, serve with Kansas major case Metro Squad, meet an American president and — in one of two detours for military service in the Middle East — serve as prison guard for former Iraq strongman Saddam Hussein and many of his henchmen.
The appeal of the job has always been keeping law-abiding citizens safe, Carpenter said.
"I like being able to help protect the good guys, and I like putting the bad guys in jail," he said.
Although he passed the common-sense test as a rookie cop, Carpenter didn't stay with the Wyandotte County Sheriff's Office long. He was lured away within a year to a better-paying job with the Roeland Park Police Department.
That would prove to be a much longer partnership. Although he would leave the Roeland Park force for a stint with the Johnson County Sheriff's Office and then the job as deputy police chief of the neighboring city of Westwood, Carpenter returned as chief of police of Roeland Park for 14 years before his first retirement in 1996.
At the White House
As chief of Roeland Park, he sought to improve the department through successful grant applications for equipment and officers. His success in obtaining one such grant, which put three more officers on the city's streets, earned him an invitation to a White House ceremony with President Bill Clinton with about 100 other police chiefs from around the country, Carpenter said.
That work was satisfying, but Carpenter looks back more fondly at time he spent with the drug enforcement task force and the Kansas City Metro Squad before his promotion to chief of the northwest Johnson County city.
"That was the most enjoyment I ever had as a police officer," he said. "When you become chief, the fun part of being a police officer is gone.
"Investigating homicides with the Metro Squad, you felt like you're doing something important."
Carpenter retired as Roeland Park chief in 1996, only to find he wasn't ready to leave law enforcement.
"I started missing it," he said. "You start reading about events in the newspaper, you kind of miss being involved in what's going on."
He took a job with the Lake Quivira department in 1996 before becoming chief of Tonganoxie in 2000. He also worked part-time for the U.S. Marshal Service and will continue to do so with his retirement.
Guarding Saddam
His time in Tonganoxie was interrupted when his military police unit was called to 18 months of active duty with the invasion of Iraq. In 2004, he first assisted the provost marshal with military police operations throughout Iraq and then with this 12-soldier unit took command of Camp Cropper, the detention center that housed Saddam Hussein, Tariq Aziz and Saddam's cousin Ali Hassan al-Majid, known as Chemical Ali for his role in the gas attacks on Kurd civilians in the late 1980s.
He had conversations with all those notorious men and others, Carpenter said. He remembers Saddam as a courteous prisoner but reluctant to accept his changed circumstances.
"He knew how to handle people," Carpenter said. "The only time I saw him get angry was when he got served with papers and he knew he would get tried for several crimes. He was really upset that day.
"In his mind, he was still in charge of Iraq. When he got served the papers, he didn't think they had any value because the judge didn't have any authority to do that."
Tonganoxie years
Carpenter's tenure in Tonganoxie corresponded with a period of marked city growth. That was reflected in the police department, which added officers in response to increased calls and to provide adequate emergency staffing, he said.
"When I first started, we had six full-time officers," he said. "We now have 10. We have 15 part-time officers in case of an emergency.
"When the tornado came through 10 years ago, one of our full-time officers was on vacation and another was at the academy. Of the three part-timers, two were firefighters and the fire department took them."
The help of other local departments saved Tonganoxie from what could have been a very bad situation, Carpenter said.
In his decade in Tonganoxie, training and preparation have become more emphasized as a result of such as Columbine and 9/11, Carpenter said. Like their colleagues nationwide, Tonganoxie police officers now carry rifles in patrol cars so that won't be at a disadvantage in a hostile situation, he said.
The hope is the rifles will never be used, Carpenter said. And that is more than a faint hope in Tonganoxie, where the crime rate is very low. There were no homicides in the town in his decade as chief, and he regularly completed annual reports with two burglaries, he said.
The quality officers he supervised contributed to that success, as did an alert citizenry who kept the department informed of suspicious activity, Carpenter said. Interactions with residents and day-to-day relationships with his officers are two parts of the job he will miss.
"The people here treated me great," he said. "Part of the job of being a police chief is helping people solve their problems. I didn't always solve the problems, but I always tried.
"I enjoyed it when I went out to lunch and people came up and called me by my first name. It really made me feel good and that I was part of the community."
The department is in good hands under Jeff Brandau, the former KBI administrator hired to succeed him, Carpenter said. If he is secure in that, he does depart with some misgivings he will miss law enforcement just as he did after his first retirement and of the immediate budget difficulties facing the Tonganoxie department.
"His (Brandau's) most serious challenge the coming year will be the budget," he said. "The 2011 budget is 20 percent less than 2010."