THS

volleyball snags No. 2 sub-state seed
No. 1 St. James Academy looms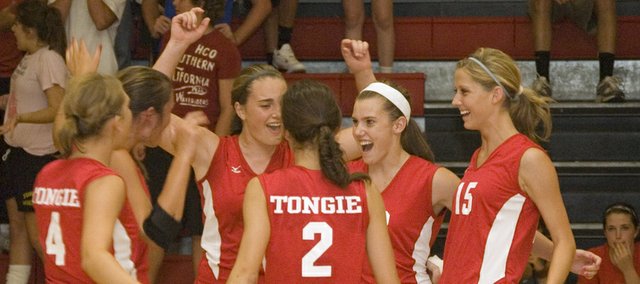 TONGANOXIE SUB-STATE TOURNAMENT
First Round
Match 1: No. 1 St. James Academy (36-1) vs. No. 8 Basehor-Linwood (12-22)
Match 2: No. 4 Atchison (21-14) vs. No. 5 Bishop Ward (20-16)
Match 3: No. 2 Tonganoxie (29-10) vs. No. 7 Bonner Springs (17-18)
Match 4: No. 3 Sumner Academy (23-12) vs. No. 6 Piper (18-18)
Semifinals
Match 5: Match 1 winner vs. Match 2 winner
Match 6: Match 3 winner vs. Match 4 winner
Final
Match 7: Match 5 winner vs. Match 6 winner
For the past few weeks, the Tonganoxie High volleyball team has been focused on attaining the No. 2 seed for its sub-state tournament and when the bracket was announced Wednesday morning that's exactly what the Chieftains got.
Players and coaches from THS, which will play host to a Class 4A sub-state tournament that begins at 1 p.m. Saturday, weren't selling themselves short by aiming for the No. 2 spot. St. James Academy was the obvious No. 1 seed and comes to Tonganoxie boasting a 36-1 record.
With a 29-10 mark, the Chieftains secured the No. 2 seed and can avoid SJA until the sub-state final should they advance that far.
THS opens the tournament with a first-round match against Bonner Springs, a team it has defeated twice in the past week. In fact, the bracket is filled with squads that Tonganoxie has already defeated this season. Though they haven't faced St. James, the Chieftains have played every other team in the field, posting a combined record of 12-0 against No. 3 Sumner Academy, No. 4 Atchison, No. 5 Bishop Ward, No. 6 Piper, No. 7 Bonner Springs and No. 8 Basehor-Linwood.
Between that history of success against potential opponents and the fact that the Chieftains will be playing at home, they should have a pretty good shot at making the final. However, co-coach Brandon Parker was quick to debunk any assumptions.
"I suppose on paper it looks that way, but you're still talking about a one-game scenario," he said. "If our team overlooks anyone, then you can be gone pretty quick."
Parker said he and co-coach Tiffany Parker want the players to understand that sub-state is a different monster from the regular season and oftentimes teams play more inspired in that setting. As coaches, Brandon Parker said they hope to see that out of their team but they know their opponents are just as capable of putting heat on the Chieftains.
"If we don't match a team's energy and will to win, then, yeah, anybody can go down at any given time," he said. "We're hoping that we're going to come in and be very focused on what we need to do and make it very tough for anyone to do that to us."
If the Chieftains avoid being upset, they would almost certainly play St. James in the sub-state final. They lost to the Thunder last season in a sub-state semifinal and Parker said this year SJA, ranked No. 1 in the nation by the website PrepVolleyball.com, is even better.
So what makes the squad from Lenexa so great?
Parker said it isn't necessarily the Thunder's size nor athleticism.
"They're not overly big," he said. "In my opinion, they have… kids that can really play volleyball and spend a good time focusing on that."
The coach said SJA displays exceptional ball control and rarely allows the ball to hit the floor. Between the Thunder's lack of mistakes and fast tempo, St. James nearly is unbeatable. The team's one blemish this season came against Bishop Miege, ranked No. 1 in Class 5A as of this past week, and SJA had defeated Miege three times this season.
Should Tonganoxie get a crack at St. James in the final, Parker said it would take a nearly perfect outing for the Chieftains to knock off the best team in the state.
"We're gonna have to play great and we're gonna have to have nine individuals that totally, 100 percent believe in themselves and believe in each other," he said. "If we have that, we're gonna be very pleased with our kids and I truly feel that we'll get that."
THS last played host to a sub-state tournament in 2007, when the team advanced to state.
The 2010 sub-state tournament at Tonganoxie begins at 1 p.m. Saturday with St. James taking on Basehor-Linwood.
Parker said the Chieftains will play Bonner Springs at roughly 3 p.m. and, with a victory, would play somewhere around 6 p.m. in a semifinal. The sub-state final would immediately follow that match.