Bobcats pound Chieftains, 41-16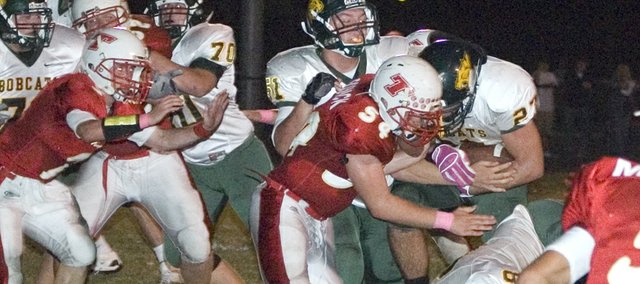 The Basehor-Linwood High football team held Tonganoxie scoreless for the first 38:54 of a district rivalry game Friday night and rolled to a 41-16 victory, eliminating any chance for the Chieftains to play in the postseason.
The undefeated Bobcats (8-0 overall, 2-0 district) scored on their first three drives of the night to take a 22-0 lead in the first quarter and, despite a scoreless second quarter, put the game away in the third by reaching the end zone on their first two second-half possessions.
Junior BLHS quarterback Colin Murphy jumpstarted the rout with a 34-yard TD run less than two minutes into the game and finished the night with four touchdown passes — three to sophomore Ben Johnson and one to brother Ryan Murphy.
The only time the Bobcats quarterback wasn't directly involved with a scoring play Friday was when junior running back Jesse Hiss scored on a one-yard carry with 2:00 left in the first half.
THS (1-7, 0-2) only picked up two first downs before halftime while amassing just 111 yards of offense, punting four times and turning the ball over twice.
Tonganoxie trailed by 41 before it finally scored its first touchdown — a nine-yard run by senior quarterback Jeremy Carlisle with 9:06 remaining.
The backups for both Kaw Valley League squads were on the field when second-string THS quarterback Garret Elston, a sophomore, ran for a four-yard score with 2:15 left on the clock.
Skylar Ross, Nathan Quigley and Tanner Garver each picked off a pass for Basehor-Linwood.
Chieftains senior Shawn Marin, meanwhile, created his team's only takeaway with an interception in the third quarter.
Basehor-Linwood wraps up its regular season with a Thursday home game against Perry-Lecompton and Tonganoxie closes the same night at home against Jeff West.
Score by quarters
BLHS 22 0 19 0 — 41
THS 0 0 0 16 — 16
Scoring
B — Colin Murphy 34 run. Garret Kahle kick.
B — Ben Johnson 4 pass from C. Murphy. Tanner Garver pass from Nathan Quigley.
B — Jesse Hiss 1run. Kahle kick.
B — Johnson pass from C. Murphy. Conversion failed
B — Ryan Murphy pass from C. Murphy. Conversion failed.
B — Johnson 18 pass from C. Murphy. Destry Bryan kick.
T — Jeremy Carlisle 9 run. Dallas Jacobs pass from Carlisle.
T — Garret Elston 4 run. Amos White pass from Elston.