St. James Academy captures 4A substate championship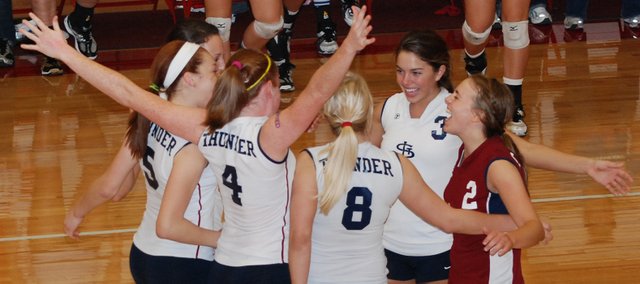 Tonganoxie — St. James Academy spent plenty of time sitting around at the Class 4A volleyball substate tournament Saturday at Tonganoxie High School.
Photo Gallery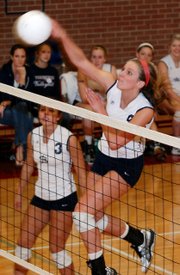 St. James Academy wins 2010 substate title
The Thunder played in the first and last matches of the day. They had a semifinal match sandwiched in between, but for the most part the Thunder spent the day waiting.
While on the court, however, they were electrifying.
St. James — the two-time defending Class 4A state champion — made quick work of all three of its opponents and steamrolled its way back into the state tournament.
"I was really happy about it, because that is a concern as a coach when you have to sit that long," St. James coach Nancy Dorsey said. "I just feel like they handled that well and they handled themselves very well. I said 'If anything, whatever happens, we need to play with enthusiasm because this is the game to go to the state tournament. This is a really big deal, and it doesn't matter who you're playing or how well they're playing or what the score is. You win and you get to go to state, so what's not to be excited about?'
"I think they took that to heart, and they just played very well. Our serving was really aggressive, and obviously our offense was working pretty well. They really came out and realized how important it is and gave their best effort."
St. James clobbered Basehor-Linwood in the first round, 25-9, 25-9. The Thunder used bookend aces by setter Paige Brown to open and close game one, and they used a balanced attack in the lopsided victory in game two.
After waiting for the other three first-round matches to conclude, St. James returned to the court and cruised past Bishop Ward in the semifinals.
Piper upended tournament host Tonganoxie in a three-game thriller in the other semifinal, pitting Piper against St. James in the finals.
St. James wasted no time taking control of the championship match. Brown served St. James to a game-opening 14-0 run before a net violation gave Piper its first point.
Brown scattered assists to Morgan Voorhes, Katie Dulek and Arianna Person, and the St. James defense recorded numerous other points on blocks. The Thunder claimed game one, 25-7.
St. James started game two somewhat slow. Piper called a timeout when St. James led 9-4. The Pirates scored the first point out of the timeout, but a kill by Kayla Guyot started a game-ending 16-0 run. Sheridan Zarda did the bulk of the damage with her steady serve. She fired three aces during the run — including one that brought the match to a close.
St. James (39-1) will compete Friday and Saturday at the Class 4A state tournament at the Bicentennial Center in Salina.