Tonganoxie ousted in semis by Piper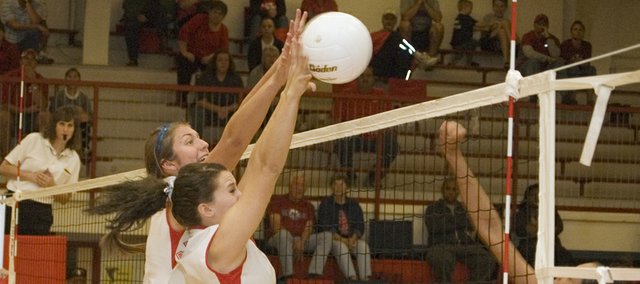 CLASS 4A SUB-STATE AT TONGANOXIE
First round
No. 1 St. James Academy def. No. 8 Basehor-Linwood
No. 5 Bishop Ward def. No. 4 Atchison
No. 2 Tonganoxie def. No. 7 Bonner Springs
No. 6 Piper def. No. 3 Sumner Academy
Semifinals
No. 1 St. James Academy def. No. 5 Bishop Ward
No. 6 Piper def. No. 2 Tonganoxie
Final
No. 1 St. James Academy def. No. 6 Piper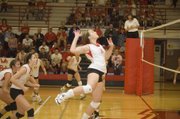 There was a very good chance the Tonganoxie High volleyball team's season was going to come to an end on its home court Saturday.
It did.
A sub-state semifinal loss to Piper was not supposed to be how that transpired.
It was.
With the best high school volleyball team in Kansas, St. James Academy, competing at the Class 4A sub-state tournament at Tonganoxie as the No. 1 seed, No. 2 THS wanted a showdown with the two-time defending state champs in the final.
That never happened.
Instead, No. 6 seed Piper upset the Chieftains on their home court, winning 26-24, 17-25, 25-23.
The Pirates — who went on to lose to SJA in the final — were 0-2 against THS (30-11) this season prior to the semifinal, further frustrating co-coach Brandon Parker and his players about how the season ended.
"We're disappointed for our seniors," Parker said of Danielle Miller and Molly O'Hagan. "They've done everything we've asked. They did not get to go off the way that they should have."
Piper (20-19) won by making plays late in the first and third games. Tonganoxie's Kailan Kuzmic tied the first game at 20-20 with a block and teammate Jenny Whitledge later tipped a ball for a point thanks to a set from Hannah Kemp, which knotted the game at 24, but PHS scored the final two points.
A larger hole in the third game was too deep for the Chieftains to escape. The game was tied at 16 before Piper went on a 5-0 run and although THS fought for points with a tip and a block by Whitledge and a Sagan Scates ace, the home team couldn't muster enough for a victory.
Both the first and third games were highly competitive but the difference, Parker said, was Piper's ability to score clutch points.
"We did not step up in crunch time," the coach said. "Period. End of story. Facts are facts."
Obviously, O'Hagan said, it was not the way she envisioned her high school career ending.
"All season we have been told the potential that we have and the thing that is most disappointing is people just don't believe in it," she said.
For Miller, who also saw her playing days at THS come to a close, the worst part was the team's lack of drive.
"We had moments," she said, "and you see people come out and do things and make improvements and it's our last chance and (those things) don't show up."
Quarterfinal win
With a two-game sweep of Bonner Springs in the opening round, Tonganoxie advanced to a sub-state semifinal Saturday afternoon.
The Chieftains trailed early in both games against the Braves, whom they had defeated twice in the previous week, but rallied for a 25-16, 25-19 win to open their sub-state play at THS.
Tonganoxie didn't lead in the match until O'Hagan block gave the home team a 12-11 advantage in the first game but that was part of a 7-0 rally that helped the Chieftains take control.
THS closed the first game on a 15-5 run with kills from Brooklyn Kerbaugh, O'Hagan, Whitledge and Miller. During that span Haley Smith served up an ace and Kailan Kuzmic placed a tip in between BSHS defenders for a point.
Despite the strong finish, the Braves (17-19) again took an early lead in Game 2 and held a 15-13 advantage before Tonganoxie finished the match with a 12-4 run.
O'Hagan blocked Bonner Springs twice for points in the deciding rally and put away three kills. Kerbaugh and Kemp set up O'Hagan for some big swings and Kerbaugh made a few crucial plays at the net late. The best effort of the match, though, came from Smith, who, after watching her served returned, dove head-first onto the floor for a point-saving dig.