Tonganoxie soccer starts 'second season' with 2-1 win
Chieftains double win total with 2-1 playoff victory at Perry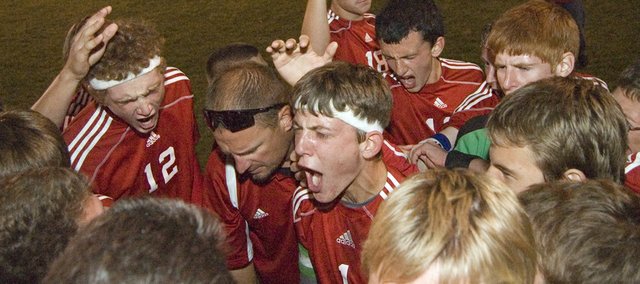 Perry — Monday could have marked the end of the Tonganoxie High boys soccer season. Instead it was the beginning of a new one.
The Chieftains, after a 1-15 regular season that made them the No. 15 seed in their regional bracket, went to Perry-Lecompton and knocked off the No. 10 Kaws, 2-1.
The night before THS doubled its 2010 win total, coach Brian Kroll sent out a mass text to his team, letting the players know the first season was history.
"This is the start of the second season. We're a brand new team," he said after watching his squad beat PLHS (8-8-1) for the second time this year.
Tonganoxie (2-15) certainly played like a different team in the upset win. The road underdogs got on top early, in the 10th minute, when junior captain Matt Briggs took a pass from Joseph Parrino in the box and pushed it into the right corner for a goal.
Briggs, playing in just his second match back from an injury, said Kroll had told him the importance of striking early.
According to Briggs, their approach had to be: "If we score first, then we'll win."
That proved true but after the score remained the same until halftime, an early second-half score from freshman Evan Stilgenbauer made a victory more attainable. In the 46th minute, freshman Evan Lott booted a cross from the right corner out toward the front of the far post and Stilgenbauer hammered it off the bottom of the crossbar to give Tonganoxie a 2-0 lead.
As he was making his run toward the goal, Stilgenbauer wasn't sure if he would be able to make a play on Lott's pass.
"It looked great but I didn't think I was gonna really get to it, so I just kind of ran through and put my foot on it," he said, adding he didn't intend to send the ball upward. "I'm just happy it worked."
Kroll was glad to see Lott make the pass, because it was a play the coach had been asking for of late.
"That's one of those things I've been telling him for weeks and weeks and weeks: Just cross the ball. Somebody will be there," Kroll said. "Sure enough, it worked."
Almost everything functioned smoothly for the Chieftains, especially their defense. Marcus Titterington, Zack Tallent, Jake Willis, Jeremy Fox and Cody Martin all spent time in front of goalkeeper Keaton Truesdell (five saves), helping limit the Kaws' attacks.
The defense only struggled in one sequence in the 54th minute. The Chieftains could neither possess nor clear the ball in the box and Perry-Lecompton cut the lead to 2-1.
Other than that, Kroll said, it was a much better outing than the last time THS traveled to Perry and lost, 3-0, on Sept. 27.
"It's like we owned them. Tonight we owned Perry," the coach said. "Last time we were here they owned us."
Briggs said the Chieftains played with much more confidence Monday, because they gained some momentum in a 1-0 loss to Leavenworth in the regular-season finale. That allowed them to play better than their one-win record.
"We had one win but we had a lot of close ones and ones that we should've won and could've won," Briggs said. "Against Leavenworth we finally just started putting things together."
Confidence and teamwork, Stilgenbauer said, were the keys.
"We're playing like a team. We're moving the ball. We're not afraid anymore," he said.
Kroll agreed, and said THS is a much different team than it was just a few weeks ago.
"I'd say now we are a team, where as before we weren't," the coach said. "We were just a bunch of guys out here playing soccer."
Tonganoxie's next soccer match is at 6 p.m. Tuesday, when the team will play at No. 3 seed Basehor-Linwood (9-7).