25-point 'L' eliminates
THS

from postseason contention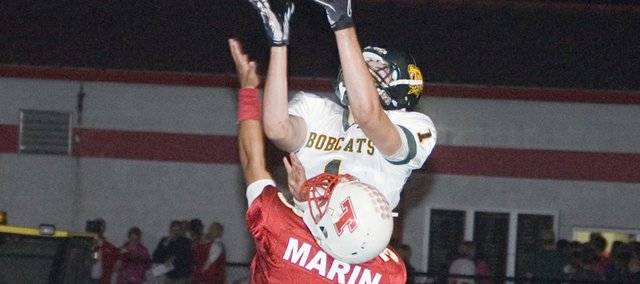 DISTRICT BREAKDOWN
Week 2
Basehor-Linwood 41, Tonganoxie 16
Perry-Lecompton 28, Jeff West 18
Standings
(Team, record, point differential)
Basehor-Linwood, 2-0, +26

Perry-Lecompton, 2-0, +23

Jeff West, 0-2, -23

Tonganoxie, 0-2, -26
It was going to take a combination of execution and good fortune Friday night for the Tonganoxie High football team to end its six-game losing streak and knock off undefeated rival Basehor-Linwood at Beatty Field.
A few early touchdowns. Win the turnover battle. Who knows? Maybe the Chieftains could pull off an upset and keep their postseason hopes alive.
None of those idyllic scenarios played out, though. Just the opposite, in fact. As the Bobcats scored 41 unanswered points in the first three quarters, all THS could muster was a couple of late touchdowns to avoid being shut out in a 41-16 district home loss which (thanks to a district win by Perry-Lecompton against Jeff West) eliminated Tonganoxie from playoff contention. With that, the Chieftains' losing skid hit seven games.
The Bobcats (8-0 overall, 2-0 district) ate up chunks of yards on each of their first three drives and were up 22-0 before the first quarter concluded.
Said THS junior running back and linebacker Brady Waldeier: "They just had big plays, got big yardage every time."
Then came the turnovers. Tonganoxie (1-7, 0-2) lost possession on an interception and a fumble in the second quarter, then saw BLHS pick off two more passes in the third quarter. The Chieftains' only takeaway came from Shawn Marin late in the third quarter and Basehor-Linwood finished plus-three in turnover margin.
THS coach Mark Elston credited the Bobcats secondary for strong pass coverage.
"They're very well disciplined," he said. "Their guys stayed home in their pass routes and that didn't open up for us like we'd anticipated."
Senior quarterback Jeremy Carlisle threw two of the picks but another came on a trick play Tonganoxie ran in the third quarter. Senior Dylan Scates lined up at wide receiver, took the ball from Carlisle on a reverse and then threw a pass to Carlisle down the left sideline. Senior Basehor-Linwood defensive back Nathan Quigley, however, wasn't fooled and stepped in front of Carlisle for an easy interception. Elston, with his team trailing 28-0 at the time, said Tonganoxie took a chance and it "backfired."
The Bobcats' lead kept growing in the third quarter. As the gap widened and the probability of winning shrunk, the Chieftains, Waldeier said, just had to keep playing.
"It's pretty bad," he said. "It doesn't feel good but you've got to stop looking at the scoreboard."
Eventually, with 9:06 left in the game, THS finally put a number on the home side of the board with a nine-yard run by Carlisle. Less than seven minutes later, backup quarterback Garret Elston ran for another score, but those points were way too little way too late.
Season finale Thursday
Knowing that there will be no postseason, Coach Elston said the Chieftains still have something to play for as they prepare for the season finale on Thursday against Jeff West.
"Especially for the seniors, you win your first one, you win your last one, you can go out on a high note," the coach said.
Although it will be a short week, Elston said it should be a fun one for the seniors, who will play on Beatty Field for the final time at 7 p.m. Thursday.
"We can just turn them loose and they don't have to worry about practices anytime after that."
The goal, he added, will be for them to "end on a great memory."
Carlisle said that's a concept the seniors can get behind.
"We don't want to end on a loss," he said. "Obviously, this season hasn't been quite as successful as we hoped it would've been but we just want to go out and play our hearts out in our last high school football game, go out having a blast."
Score by quarters
BLHS 22 0 19 0 — 41
THS 0 0 0 16 — 16
Scoring
B — Colin Murphy 34 run. Garret Kahle kick.
B — Ben Johnson 4 pass from C. Murphy. Tanner Garver pass from Nathan Quigley.
B — Jesse Hiss 1 run. Kahle kick.
B — Johnson pass from C. Murphy. Conversion failed
B — Ryan Murphy pass from C. Murphy. Conversion failed.
B — Johnson 18 pass from C. Murphy. Destry Bryan kick.
T — Jeremy Carlisle 9 run. Dallas Jacobs pass from Carlisle.
T — Garret Elston 4 run. Amos White pass from Elston.
THS rushing: Dylan Scates 12-57, Jeremy Carlisle 13-34, Brady Waldeier 4-32, Shane Levy 1-22, Garret Elston 2-14, Cody Saladin 2-8, Ian McClellan 6-7, Shawn Marin 2-(minus) 2.
THS passing: Jeremy Carlisle 6-15-135 two intercepted, Garret Elston 1-1-3, Dylan Scates 0-1-0 one intercepted.
THS receiving: Dylan Scates 2-65, Brady Waldeier 2-57, Shawn Marin 1-10, Amos White 1-3, Dallas Jacobs 1-3.