Chieftains livid following sub-state volleyball loss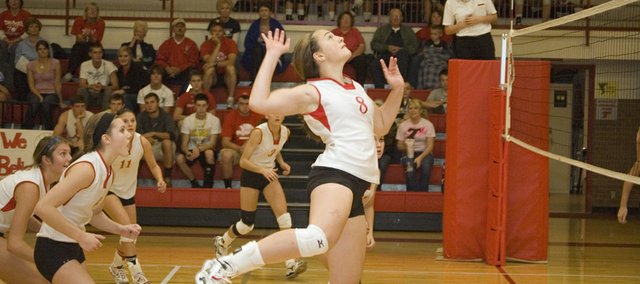 Photo Gallery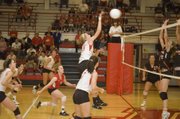 Tonganoxie volleyball ousted early
The Tonganoxie High volleyball team played host to a sub-state tournament on Saturday, but fell in the semifinals to Piper.
The past couple years, when Tonganoxie High's volleyball season came to a close, players cried and hugged and coaches looked forward to what the future had in store for the returning players.
Saturday was not one of those days.
The No. 2 seed Chieftains lost, 26-24, 17-25, 25-23, in a sub-state semifinal on their home court to a No. 6 seeded Piper team they had defeated twice this season.
As pre-match introductions for the sub-state final between St. James Academy and Piper were being announced in the THS gymnasium, Tonganoxie seniors Molly O'Hagan and Danielle Miller slouched against the brick walls of the adjacent hallway while co-coach Brandon Parker angrily paced back and forth before they all retreated to the locker room for the last time this year, and it was abundantly clear there were no feel-good moments about this season-ending loss.
By the time they emerged from the locker room, SJA (ranked No. 1 in Class 4A) had easily disposed of Piper to win a sub-state championship and the Chieftains couldn't shake their anger about how their season had culminated in an upset loss.
Parker, for one, was beside himself about how Tonganoxie (30-11) had played in the loss.
"I can't figure out why we couldn't give more," he said. "I can't figure out why we're gonna live our life in fear so much, because that's what we've done all season — the big moment, we've feared it. You've got to make a stance at some point in your life that you're not gonna take it anymore."
Miller said the Chieftains had no reason to fear Piper nor play as poorly as they did.
"I don't even know if there was that much pressure," the senior said. "I know it's win or go home but that should've been a team we took care of pretty easily."
All of that and more, O'Hagan said, made for a maddening situation.
"I feel like people could've given more," she said, adding the disappointment was the focus of the team's post-match discussion in the locker room. "Our team talk was not a happy talk, because we didn't perform."
Not living up to potential, Miller said, was only the fault of the players.
"I think people put pressure on themselves and kind of shut themselves down," she said.
O'Hagan agreed and couldn't figure out why Tonganoxie didn't play more assertively.
"We were just on our heels. We didn't want the ball. We didn't have a hunger for the ball. And to be honest, I don't think Piper did either," the senior said. "I'm trying to figure out what happened and I can't figure it out, because we had high enthusiasm at points and normally the team that has the high enthusiasm ends up on top. It was just our hesitancy that gave us the 'L.'"
Parker, though, praised the team's two seniors for not backing away from the challenge of trailing to a lower-ranked team.
"I really think that our two seniors brought it in their final game," the coach said. "When balls were there, they went to go hit them. They didn't back out, they went to swing. You know what? That's the mentality you have to have if you're going to be a champion."
More than anything, Parker wanted O'Hagan and Miller to have a chance to play against the state's top team, SJA, even if that would have meant losing in the final.
"I feel bad for the seniors, because when you're not a senior, you don't get it," he said. "You don't know what that's like to be playing your final match."
Anger was all Miller felt when her high school career ended Saturday at THS.
"That's a lot, to lose on your home court and that's your last game," she said.
O'Hagan had hoped for much more from her Chieftains finale.
"It's hard to end this way," she said, "because me and D (Miller), our coaches, I think we know what we can do and we didn't execute."
More like this story