Keeps them running
Tonganoxie boys take 3rd at regional, earn trip to state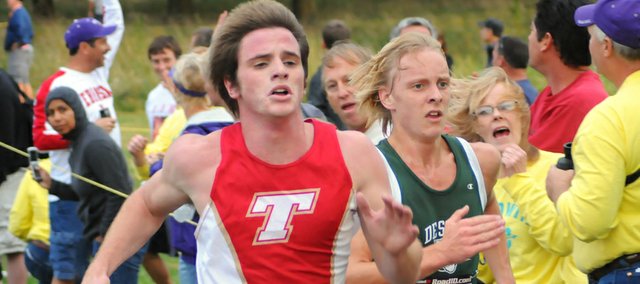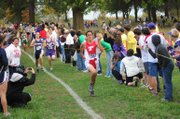 The Tonganoxie High boys cross country team made a run at redemption on Saturday and its reward was a ticket to state.
Nine days after they competed down the road at Wyandotte County Park for the Kaw Valley League Championships, the Chieftains wanted to make amends for what they considered a disappointing fifth-place finish.
There was nothing to complain about this time around, at the conclusion of a Class 4A regional race. Tonganoxie — with runners Patrick Rachford, Dalton Harrington and Caleb Himpel taking ninth, 10th and 11th — finished third in team points to qualify the entire squad for state.
THS coach Phil Williams said the top three runners were "tremendous," and that helped the team achieve its goal of returning to state for the first time since 2006.
"As disappointed as we were last week, we were just as elated with the way things went this week," Williams said.
Considering Tonganoxie's recent state appearance drought, Rachford, who finished in 17:35.8, said it was a big day for the program.
"I know the whole team did really good, so it feels pretty good to do that together," he said of qualifying for state.
Himpel, who struggled with dehydration at the KVL meet, said he was highly motivated for the regional.
"I ran the worst race, probably, of my career," the junior said of finishing 27th his previous time out.
According to Himpel, he knew he was capable of much more at the regional. It showed in the way he ran. Himpel improved his time by 55 seconds from the previous week to finish 11th Saturday.
Harrington, who finished 10th, said Tonganoxie's poor showing at league motivated the team as it prepared for the state-qualifying race.
"At practice we had pushed ourselves really hard, so I wasn't just going to slack off at regionals," the junior said.
He wasn't the only one to take that approach. Sophomore Jeff Neal was 41st, and Williams said he ran his best race to date. Neal led a second pack of THS runners at the regional as Keith Slater was 43rd, Brady Field was 45th and Clayton Himpel was 48th, with all four runners finishing within 14 seconds of each other.
Rachford said running on the same course two consecutive weeks helped THS. Even when he felt fatigued, he could push himself because he knew where he was in relation to the finish line.
"I knew the course a little bit better, so I could mentally prepare for the race a lot better," he said.
The familiarity paid off in the form of a state berth, which excited the runners. Harrington said the team had discussed state as a goal last season.
"It's a really good feeling that we're actually going this time," he said.
Caleb Himpel agreed, and said he sometimes hears jokes from other athletes that cross country isn't a real sport, so he is very proud of the squad's accomplishment.
"We're the only team (from THS) that made it to state this year, so that's pretty good," he said.
As the boys prepare for the 4A state championship at Wamego (10:30 a.m. Saturday), the top three runners said the only unknown for them will be the course itself, because they haven't competed there. Rachford said preparation won't be any different just because the runners are state-bound.
"I don't think we really want to differ from anything we've done in the past," he said, "because what we've been doing so far this year has worked out for us."
If there is anything Williams would like to change, it is the time differences between the top group and the second group.
"Even though I was very pleased," the coach said, "I feel like we can improve next week, because we had a big gap between our No. 3 (Caleb Himpel) and No. 4 runner (Neal). If we close that up, we can surprise some people at Wamego."
The THS boys were fifth at state in 2006. They won a state title in 1991.
Class 4A Regional
Saturday at Wyandotte County Park
Boys 5K
Team scores: 1. Baldwin, 20; 2. De Soto, 61; 3. Tonganoxie, 104; 4. Basehor-Linwood, 113; 5. Bonner Springs, 134; 6. St. James Academy, 181; 7. Topeka-Hayden, 182; 8. Jeff West, 186; 9. Eudora, 202; 10. Perry-Lecompton, 321.
THS results: 9. Patrick Rachford, 17:35; 10. Dalton Harrington, 17:42; 11. Caleb Himpel, 17:45; 41. Jeff Neal, 19:01; 43. Keith Slater, 19:04; 45. Brady Field, 19:07; 48. Clayton Himpel, 19:15.