Mr. Goodcents closes doors Monday, cites economy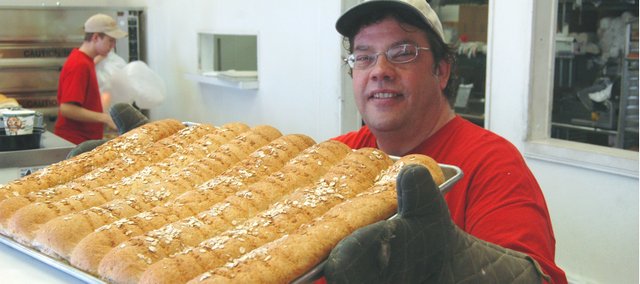 Bo Himpel has enjoyed many meals at 1208 Front St. in Tonganoxie.
He's been a regular at the Mr. Goodcents that occupied that address since 1998.
Monday, however, was the last day of operations for the restaurant. The eatery specializing in subs and pasta closed its doors Monday night.
"I ate lunch there every day," Bo Himpel said. "Sometimes I'd eat (there) in the evenings."
Himpel said he started becoming a regular at the restaurant and had been stopping in for what "seems like forever."
His favorite sandwich was ham and cheese with mayonnaise. Those big chocolate chip cookies were a favorite as well.
Owner Mark Matheson said the decision to close the restaurant, part of the De Soto-based franchise, was based on the rough economy.
"The last couple years have really been a struggle," Matheson said.
Mr. Goodcents started operations in Tonganoxie in March 1998 when Paul Mayse opened the store. Matheson, who formerly was the corporate vice president of operations and development for Mr. Goodcents, took over as owner of the Tonganoxie location in August 2001.
"We gave it the best swing we could," Matheson said. "We've had a lot of customers hugging us and thanking us."
One of those special customers for Matheson was Himpel.
"Bo Himpel," Matheson said. "He's a fine gentleman."
Like Himpel, there have been several regulars at the restaurant, including American Legion members who always would gather at the restaurant.
"Oh, I just hated to see them close," Himpel said. "I enjoyed their food and there were a bunch of us there at noon."
Matheson noted that he's seen a lot of his crew members grow up and have children.
And he had longevity with his staff. Mike Putthoff worked at the restaurant for all 12 years, while Ashley Elliott was employed the last seven years.
Matheson said his staff's last day was Saturday. He and his wife worked the shop the final two days, while Mark's son, who is on leave with the U.S. Coast Guard, also helped with the final days of operations as they prepared for Tuesday's auction of store items.
"We've had a tremendous loyal clientele," Matheson said.
But Matheson said he knows everyone has more limited funds in these difficult economic times. He said he also noticed an increase in credit cards.
Matheson, who lives in Olathe, will now turn his attention to finding employment.
"I guess I'll hit the job market and see what I can find," he said.