Pool thrives in hot summer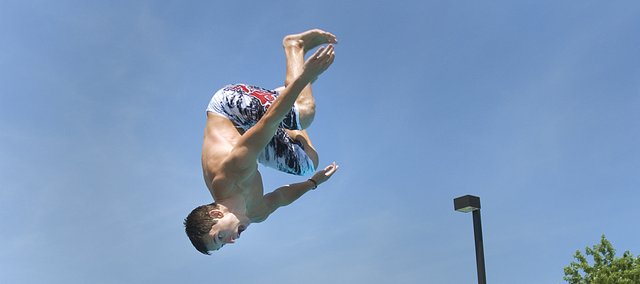 In a summer filled with days that had residents seeking a cooldown, the Tonganoxie Water Park set a record for attendance and nearly broke even for the season.
Darren Shupe, pool manager, presented on Monday the Tonganoxie City Council with a report on this pool's 2010 season.
In what was its second full year of operation, the pool drew 26,574 customers during its three-month season. That compared to the 23,995 customers who visited the pool in the first full year of operation of 2009.
June was again the pool's busiest month with attendance of 11,467, or 964 more customers than the same month in 2009. The season's busiest single day was Thursday, June 24, when 600 people came through the pool's gates, Shupe said.
Attendance was split nearly 50-50 between those with season tickets and those who paid for daily passes, with 44.33 percent entering with family season passes, Shupe's figures showed.
With concessions and a "nice little jump" in swimming lessons, the pool produced $121,113 in revenue for the season, Shupe said. That was just $1,344 less than its expenditures despite an increase in operational cost expected as maintenance increased in the pool's third year, he said.
Last year, the pool needed a city subsidy from the general fund of $23,514.
The decision to close the pool at 8 p.m. rather than 9 p.m. contributed a decrease in employee costs as did other cutbacks that did not affect safety at the pool, Shupe said.
City Administrator Mike Yanez said the report showed the council had done several things right.
"We hit a home run when we designed that thing because it serves all ages," he said. "We adjusted the rates up slightly. I think we got it right."
Weather played a big factor in the season's success, but he gave antidotal evidence to back up Yanez's observations.
"When a resident of a neighboring town comes to you and tells you they come to your pool because of how clean the restrooms are, how nice it is and it's cheaper, you're doing something right," he said.