School board selects architectural firm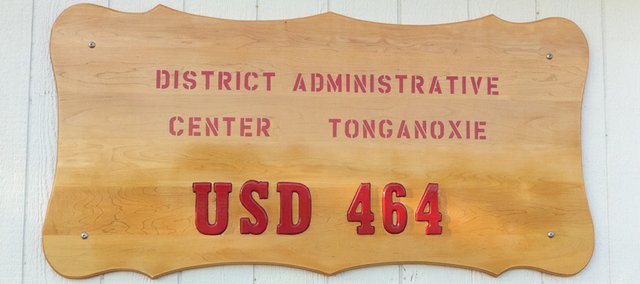 Horst, Terrell and Karst of Overland Park will be in charge of designs for possible expansion of Tonganoxie School District facilities.
The Tonganoxie School Board voted, 6-0, Monday to hire HTK as the district's architectural firm pending approval of a contract.
Board member Kay Smith was not able to attend the meeting.
The school board met with HTK and two other finalists, Warner, Nease and Bost of Kansas City, Mo., and Nevius, Serig and Palmer of Overland Park.
Representatives from each of the three firms met in open session, with each firm presenting for 20-30 minutes and then fielding questions for another 20-30 minutes from school board members.
Each firm presented rough sketches of potential scenarios for improvements to the district that a facilities committee has laid out: additions to the elementary school and high school as well as construction of a new upper elementary school on the district's 80 acres, part of which is home to Tonganoxie Middle School. TMS was completed roughly four years ago.
Mark Franzen, president of HTK, told the board of the company's more than 50 years of working with school districts in designing schools. He noted long-term relationships with Basehor-Linwood for 17 years, Leavenworth for 27, Blue Valley for 15 and the Auburn-Washburn district near Topeka for 52 years.
Franzen talked about the company offering sustainability in design in ways that can save the district in energy costs — the company is part of the Kansas Green School Program — as well as flexibility in design.
"A third-grade classroom may not be a third-grade classroom in 10 years," Franzen said.
Other staff members showed three-dimensional software of what additions to all three school properties might resemble, stressing that they would be preliminary renderings and could be altered. Configurations on the 80 acres showed the new school on different locales on the property, while renderings for the elementary called for the removal of mobile classrooms and the Quansa hut on the north side of the TES campus to implement parking to combat the parking squeeze at the elementary school and a new entrance to the school, among other potential changes.
At the high school, their preliminary plans called for connecting the west and east campuses with classrooms and a main entrance and removing the board office to create more parking.
At the end of all the interviews, board members ranked the three finalists in areas such as working with a construction manager, working on multiple projects and organization. All board members rated the firms in the same manner, with HTK being the top firm in all categories for the board members.
Estimates for a new 115,000 square-foot elementary school would be about $19,485,000. High school additions would be about $4.9 million and elementary school renovations currently would cost an estimated $679,000.
The high school additions, as of now, would focus on updated media library and science facilities, as well as administrative and student services facilities. For safety and security purposes, plans also would focus on connecting the east and west campuses at THS. Additions would cover about 25,000 square feet.
At the elementary school, additions would be about 1,500 square feet and would focus on administrative services, safety and security, as well as remodeling of restrooms.
The district had received 25 inquiries about the architectural design job and 15 applications. The three finalists were selected from those 15 applicants.
The selection process is part of plans to have a potential school bond issue in April 2011.
The next school board meeting will be Monday, Nov. 8 at the Tonganoxie High School library on the THS west campus.