Shorthanded
THS

girls 6th at regional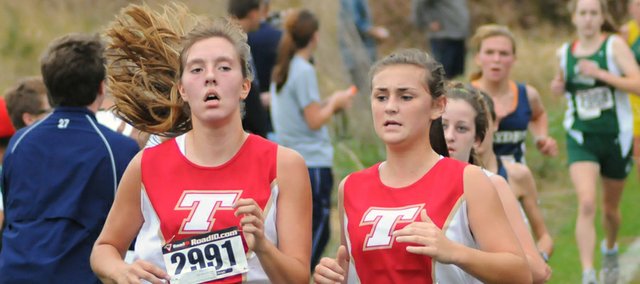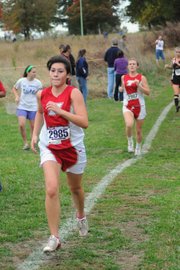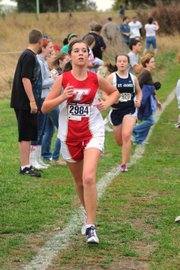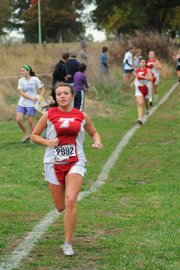 With all the excitement surrounding the Tonganoxie High boys cross country team's state-qualifying performance on Saturday at a Class 4A regional, the Chieftains' coach hopes the girls team's showing won't be overlooked.
THS finished sixth at Wyandotte County Park and although none of its girls earned a trip to state, coach Phil Williams said the runners made the best of a challenging situation.
Not only was Tonganoxie without injured freshman Emily Soetaert, but the squad's top senior, Alex Hauk, ran after an eight-hour car ride from Indianapolis, where she had been attending the National FFA Convention with THS classmates.
"I really didn't know what to expect from the team," Williams admitted. "I was afraid that they might have trouble even breaking into the top 10 teams."
Instead, the Chieftains finished in the top half of the 12 teams competing at the regional.
"When your top two runners aren't there or aren't at full strength, it's hard to get mentally strong for the race. With all this, I felt our girls had their top effort of the year," the coach said, noting freshmen Taylar Morgan (33rd) and Emma Stilgenbauer (35th) "really came through."
Even though Soetaert and Hauk were unable to provide their normal lift, Morgan said, the rest of the team responded well.
"I was really proud of everybody," she said. "We gave it our all and we just did awesome."
One of the highlights for the girls was the varsity debut of freshman Hunter Cook, who finished 46th while not fully recovered from a season-long quad injury.
Williams noted senior Grae Wilbanks (49th) improved each race this season and ran well at the regional, and said Hauk (50th) did better than expected after her long trip. Williams went on to praise the team's other two runners.
"Parker Osborne and Jessica Sommers kept our seven grouped closely together," Williams said. "I was very proud of them, even with finishing sixth."
Only two seniors, Hauk and Wilbanks, won't return next season. Morgan, one of three THS freshmen competing at the regional, said the girls have a bright future.
"I think we have a really good chance of going to state in the next few years. The freshman group right now is super-solid," she said.
Next year's sophomore class should include Alyssa Donnelly, who missed this season with an injury, and Morgan said having Cook and Soetaert at full strength would provide a boost, too.
"We should be pretty great," she said.
The Tonganoxie girls last qualified for state in 2006.
Class 4A Regional
Saturday at Wyandotte County Park
Girls 4K
Team scores: 1. Baldwin, 35; 2. De Soto, 61; 3. St. James Academy, 108; 4. Topeka-Hayden, 116; 5. Basehor-Linwood, 121; 6. Tonganoxie, 208; 7. Eudora, 234; 8. Bonner Springs, 242; 9. Jeff West, 261; 10. Spring Hill, 264; 11. Bishop Ward, 270; 12. Perry-Lecompton, 276.
THS results: 33. Taylar Morgan, 17:45; 35. Emma Stilgenbauer, 17:47; 46. Hunter Cook, 18:14; 49. Grae Wilbanks, 18:23; 50. Alex Hauk, 18:25; 51. Parker Osborne, 18:28; 58. Jessica Sommers, 18:49.