Upset specialists: No. 15 seed Tonganoxie does it again
Chieftains knock out No. 3 Basehor-Linwood with 2-1 road win
Photo Gallery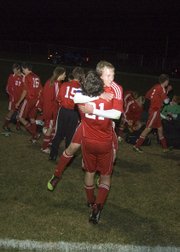 Chieftains upset BLHS, 2-1
The Tonganoxie High boys soccer team defeated rival Basehor-Linwood, 2-1, in a Norheast Kansas Regional No. 3 semifinal Tuesday night.
Basehor — The Chieftains are starting to make this look easy.
No big deal. Just another night and another playoff win for the Tonganoxie High boys soccer team.
The Chieftains continued their surprising playoff push Tuesday night with a 2-1 upset victory at Basehor-Linwood, giving them more wins in the past two days than they could put together in the previous two months.
A night after starting the postseason with a road win at Perry-Lecompton, No. 15 seed THS did it again against the No. 3 Bobcats. The trick for the Chieftains was building upon the brand of soccer — passing, ball control, defense — they had played Monday by adding a little toughness to the mix.
In a physical, at times heated, match during which four yellow cards were issued, if THS (3-15) got pushed, its players didn't mind pushing back.
Sophomore Matt Saathoff said the Chieftains took BLHS (10-5-2) out of its comfort zone and pressured the Bobcats whenever they had the ball.
"We knew we had to be physical to win this game," he said.
They had done exactly what coach Brian Kroll asked of them.
"We needed to establish how the game was going to be played," he said.
The Bobcats defeated THS twice in the regular season but once it was clear they would be unable to dominate, the road underdogs took momentum. A scoreless match through the first half turned in the 46th minute, when a pair of Tonganoxie freshmen connected for a score for the second night in a row. Just as he had done in the win at Perry, Evan Lott crossed the ball on point, out in front of the goal, and, once again, Evan Stilgenbauer was there to put it away. The only difference the second time around was that Stilgenbauer headed the ball into the net instead of kicking it.
Lott said the duo has developed some chemistry late in the year.
"I haven't been playing with him very long, but I know he always likes to crash that back post," Lott said after his second assist in as many nights. "I pretty much just cross and hope he's there."
The Chieftains' second goal came in the 52nd minute after Saathoff was fouled in the box on a corner kick. The sophomore was chosen to take the penalty kick and he scored with ease to put THS ahead, 2-0. Saathoff said he knew it was a free shot and he just had to keep himself settled. The last thing he wanted to do was get too jacked and kick it as hard as he could.
"Placement's the most important thing," he said.
The Bobcats were able to cut into the lead with just less than three minutes remaining with a goal by Symon Seaton but Tonganoxie's defense throughout the night was the difference. Jake Willis was flying all over the place, pestering BLHS players and Cody Martin hustled and played smart.
Plus, Kroll said, captains and defenders Zack Tallent and Marcus Titterington anchored the defense.
"Tallent played the game of his life tonight… and Marcus was Marcus," Kroll said.
Meanwhile, goalkeeper Keaton Truesdell denied six BLHS shots on goal. His coach praised the sophomore keeper for his play while probably still nursing an injury. "I still don't think he's 100 percent, but I'll take his 70 percent effort," Kroll said.
With the playoff win, Tonganoxie moves on to the Northeast Regional No. 3 final to face Maur Hill-Mount Acacemy, the bracket's No. 9 seed, which defeated Atchison Tuesday night.
Lott said winning two playoff matches in a row after going 1-15 in the regular season has been special. After struggling through September and most of October, the Chieftains could extend their season into November with another win.
"It's been great," Lott said. "We had to come through the back door to get it, but we're here. And that's all that matters."
Saathoff said the past two nights have been fun.
"We're more and more excited every time we play, so we've got something to look forward to," he said.
The time and location for Friday's regional final has been changed since Tuesday night. The Chieftains will play MHMA (8-6-1) at 7 p.m. Friday night at Benedictine College in Atchison.