Tonganoxie football season ends with 41-28 'L'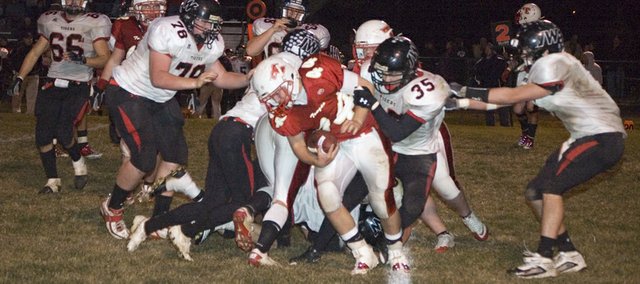 A long football season for Tonganoxie High came to a disappointing end Thursday night at Beatty Field as the Chieftains' losing streak hit eight with a 41-28 home loss to Jeff West in the 2010 finale.
Although the game was knotted at 14 at the half, the Tigers scored four second-half touchdowns and held THS scoreless in the third quarter.
A touchdown pass by Tonganoxie senior quarterback Jeremy Carlisle to senior Shawn Marin with 8:28 to play in the fourth cut the JWHS lead to 27-20 but the Chieftains gave up touchdowns on their next two defensive possessions.
Carlisle was able to run for three scores and threw for 131 yards but Jeff West (4-5 overall, 1-2 district) intercepted him three times, limiting the effectiveness of the THS offense.
Tonganoxie (1-8, 0-3) took the ball away from the Tigers twice. Junior safety Derek Lingo recovered a fumble forced by junior linebacker Jonas Myers in the first quarter and senior Austin Vickers picked off a pass in the third quarter.
After defeating Bishop Ward, 54-6, in Week 1, the Chieftains dropped their next eight games of the season.
Score by quarters
JWHS 14 0 7 20 — 41
THS 7 7 0 14 — 28
Scoring
J — Grady Tichenor 3 run. Logan Herring kick.
T — Jeremy Carlisle 7 run. Amos White kick.
J — Tichenor 36 run. Herring kick.
T — Carlisle 3 run. White kick.
J — Dalton Dean 36 run. Herring kick.
J — Tichenor 11 pass from Dean. Herring kick failed.
T — Shawn Marin 19 pass from Carlisle. White kick failed.
J — Chance Higgins 11 run. Herring kick.
J — Scott Hutchinson 82 run. Herring kick.
T — Carlisle 6 run. Carlisle run.
THS rushing: Jeremy Carlisle 17-73, Dylan Scates 6-53, Shane Levy 2-18, Shawn Marin 5-18, Cody Stine 1-6, Ian McClellan 2-3, Justin Francis 1-1, Dylan Fosdick 1-(minus) 1.
THS passing: Jeremy Carlisle 10-18-131 three intercepted.
THS receiving: Austin Vickers 3-70, Dylan Scates 6-37, Shawn Marin 2-24.