Several new events planned for Spooktacular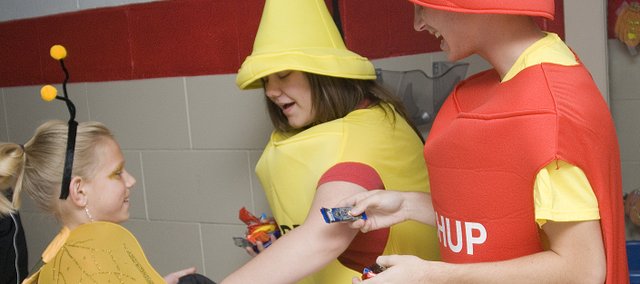 This year's Spooktacular could be the largest edition of the annual event.
In addition to businesses — roughly 30 downtown — participating in the event, there also will be a haunted house, a fire show, coloring and pumpkin-carving contests and a DJ.
Festivities run from 6 to 8 p.m. Friday throughout downtown, and trick-or-treating will be available in classrooms at Tonganoxie Elementary School. Youths also can visit various businesses along Fourth Street, as well as the Tonganoxie City Fire Department station for candy and games. Fourth Street will be blocked off to traffic for the duration of the event.
Shelbie Kniss, executive director for the Tonganoxie Chamber of Commerce, said she thought the new festivities throughout downtown Tonganoxie would attract large crowds.
"The fire performers, I think they're going to be really cool," she said.
The haunted house will be set up inside West Side Café. Kniss said the haunted house would be youth-friendly.
"It's not going to be scary," she said.
Other new attractions are hay rides by Jim Denholm throughout downtown and a DJ playing Halloween music.
The Mirror will be sponsoring a contest for youths in grades kindergarten through fourth grade. A $25 cash prize will be given to the winner of each age division. Coloring contest entries can be downloaded at tonganoxiemirror.com, or youths can pick up an entry at The Mirror office, 520 E. Fourth St. Entries will be accepted until 9 a.m. Monday, or if mailed, entries received in the mail by Monday will be accepted. Entries also can be dropped off at The Mirror during business hours or placed in the night drop after business hours.
In another contest showcasing creativity, The Coffee Depot will have a pumpkin-carving contest. Carvers can bring in their pumpkins on Friday until 7 p.m. that night to the coffee shop, 626 E. Fourth St. Judging will be at 7:30 p.m. and prizes will be given for first, second and third places.
"I'm excited," Kniss said about the Spooktacular. "I think it's going to be good. I think last year around 350 kids participated. The grade school has close to 700 in the school.
"We hope to have a bigger turnout because the maps went home with kids."
Kniss was referring to maps showing businesses participating and where activities will be, which were given to TES students to give to their parents.
The final contest will be a costume contest. Winning costumes will be announced at 7:45 p.m. near the DJ stand. Judges will be scoping out costumes throughout the night to determine which youths have the best ones.