Tonganoxie drubs Ward in season opener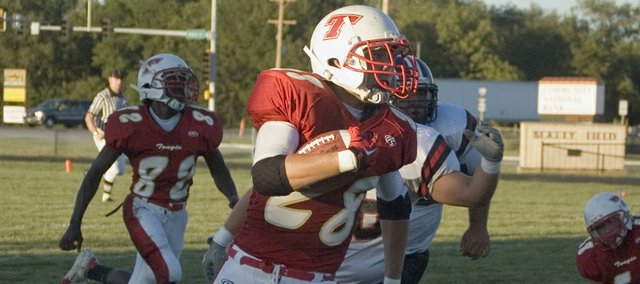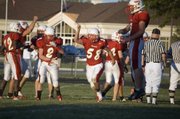 Normally presents aren't a part of the Labor Day holiday weekend. But the Tonganoxie High football team unwrapped a big box of blowout victory Friday night at Beatty Field.
The Chieftains scored on each of their first two plays from scrimmage and utilized four takeaways in a dominating, 54-6 season-opening win against visiting Bishop Ward.
Before the Cyclones knew what hit them, THS grasped momentum with a 68-yard run by senior quarterback Jeremy Carlisle just 20 seconds into the home romp.
After a Dylan Scates interception and 39-yard return, senior Tonganoxie running back Shawn Marin busted a 21-yard touchdown run to give his team a two-score lead 2:20 into the game.
Although Ward got on the scoreboard with a TD pass in the first quarter, that was the last time the Cyclones sniffed the end zone.
A 26-0 run from the Chieftains (1-0 overall, 1-0 Kaw Valley League) in the second quarter put the game to bed before halftime.
Carlisle capped a 59-yard drive by plowing across the goal line on a one-yard touchdown. Later, Marin broke another long scoring run, this one for 38 yards. Scates joined the end zone party with a 22-yard run before Carlisle got his only passing TD of the evening on a 53-yard reception by Adrian Whittington.
Senior fullback Ian McClellan ran for a pair of touchdowns in the third quarter, giving THS a 48-point advantage.
AJ Gilbert and Dallas Jacobs both recovered fumbles for Tonganoxie and Marin had an interception.
At 7 p.m. Friday, the Chieftains play at Piper, in Kansas City, Kan.
Score by quarters
Ward 6 0 0 0 — 6
THS 14 26 14 0 — 54
Scoring
T — Jeremy Carlisle 68 run. Amos White kick.
T — Shawn Marin 21 run. White kick.
W — Airon Webb 22 pass from Peter McKiernan. Andrew Schneider kick failed.
T — Carlisle 1 run. White kick.
T — Marin 38 run. White kick wide left.
T — Dylan Scates 22 run. White kick.
T — Adrian Whittington 53 pass from Carlisle. White kick blocked.
T — Ian McClellan 3 run. White kick.
T — McClellan 7 run. White kick.
THS rushing: Jeremy Carlisle 18-122, Shawn Marin 4-81, Dylan Scates 4-81, Ian McClellan 7-47, Cole Holloway 2-20, Joe Wolfe 3-14, Julius Coats 1-8, Garret Elston 2-8, Tyler Ford 2-7, Dylan Yates 1-2, Adam Thomas 1-1, Shane Levy 1-1, Luke Carey 1-0, Brady Waldeier 2-0, Noa Puebla 3-0, Derek Lingo 1- minus-3.
THS passing: Jeremy Carlisle 3-5-84.
THS receiving: Adrian Whittington 2-65, Dallas Jacobs 1-19.