Chieftains kick back and party in sweep of Atchison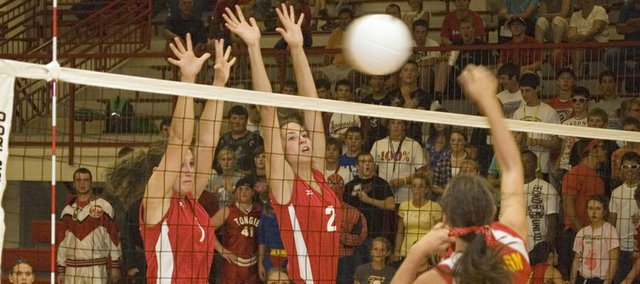 Photo Gallery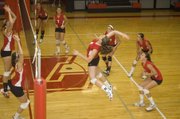 THS volleyball sweeps Atchison
The Chieftains opened their season Tuesday with a three-game sweep of Atchison.
It was a mark-the-date type of night.
Aug. 31 had been circled on the Chieftains' calendar for quite some time. Forget that it was the Tonganoxie High volleyball team's season-opening match. With players dancing and smiling throughout most of the down time, it was more like a party. The Chieftains had reason to celebrate, too, as they swept visiting Atchison in three games, 25-6, 25-14, 25-12.
THS co-coach Brandon Parker said the players just perform at a higher level when they're having fun.
"It's a guarantee, if they come out with an attitude less than that, we struggle," he said. "But any coach in America could tell you that."
Senior Molly O'Hagan said she enjoys herself most when she is able to make a play to set up a teammate. O'Hagan did that plenty of times in the victory and was having such a good time she made up a word to describe the way the Chieftains played — "teamship."
By that she meant: "We're playing volleyball but at the same time it's more than just a game. When we're on the same level, it makes it easier."
And easy equals fun, which is what Tonganoxie is shooting for to begin with. Senior Danielle Miller said the team had been looking forward to getting away from practice and playing an actual match. So it was easy to cut loose and have a good time.
"When we're excited, we're more confident and we're making better plays," Miller said. "We're just being smart with the ball."
Still, the senior leaders know they can't get away with dancing all season long. O'Hagan said there will be times when the team has to buckle down and get tough.
"Tonight that wasn't really the case," she said, "but as we play the rest of the season we're gonna face harder teams that bring more competition."
Miller said they understand how to find a balance between partying and playing.
"I think we know when to be serious and when it's crucial to make a play," she said.
The Chieftains made plays all night in their season opener. With Jenny Whitledge serving well, Kailan Kuzmic making hustle plays, Sagan Scates and Hannah Kemp setting things up, Megan Hummelgaard helping control the back row and Brooklyn Kerbaugh and Haley Smith chipping in, there weren't many mistakes.
Said Parker: "I thought we did a good job of just controlling our side of the net."
O'Hagan said she was most happy with the team's consistency.
"We didn't get in any downward slopes," she said. "If we did mess up, we bounced back with the very next point. It was a very enthusiastic night, which is a great way to kick off everything."
By the time THS takes the court again at 7 p.m. Thursday for a home dual with Baldwin, it will have been nine days since the Atchison win. Parker said the team planned to utilize that time to keep focusing on defense. The Chieftains have plenty of girls who can swing and hit, but if they can thwart their opponents' attacks, the coach said, they will be much better off.
"We have to break the will of the other team," he said.