Tonganoxie volleyball loses to Baldwin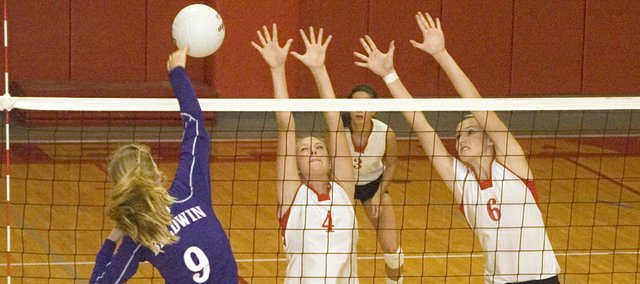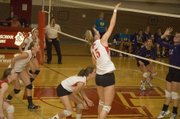 Photo Gallery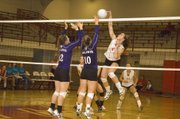 Chieftains volleyball loses at home
The Tonganoxie High volleyball team dropped the last two games of a best-of-five set and was defeated by visiting Baldwin on Thursday night.
An off night in one key department brought about a loss for the Tonganoxie High volleyball team on Thursday.
At home against Baldwin, the Chieftains lost the last two games of a best-of-five match after getting off to a respectable start. A 25-21 win was followed by a 25-22 loss but THS recovered and appeared to take control with a 25-19 win in the third game. However, the Bulldogs won the last two, 25-12 and 15-7.
Tonganoxie co-coach Brandon Parker said the home team started down a bad path when its passing fell off. He said the Chieftains (1-1) were "OK" in that category during the games they won but were far worse the rest of the night.
"The passing was horrible. If you can't pass, you can't play," Parker said.
Sets, too, were usually off the mark, the coach pointed out. So even though THS kept making aggressive swings, in the fourth and fifth games their strikes were consistently short or long.
"Volleyball's a really easy game, but if you can't set or pass… you've got a bunch of hitters that look good standing there," Parker said.
The first game featured some strong play from Kailan Kuzmic. She helped her team recover for one point by successfully playing a ball was hit into the net, and a few aces later on helped Tonganoxie to an early lead in the match.
The third game, also a Chieftains victory, was won with a flurry of plays by Jenny Whitledge, whose late kills and blocks were crucial.
Throughout the night, Brooklyn Kerbaugh's defense stymied Baldwin attacks as she kept rising up for blocks.
THS was without senior Molly O'Hagan, who was on a recruiting trip to Cal State-Bakersfield.
Tonganoxie's next match is 7 p.m. Thursday at Pleasant Ridge High School, near Easton.