THS

football game suspended in 2nd quarter
Road game at Piper will resume at 7 p.m. Saturday; Chieftains trail, 14-7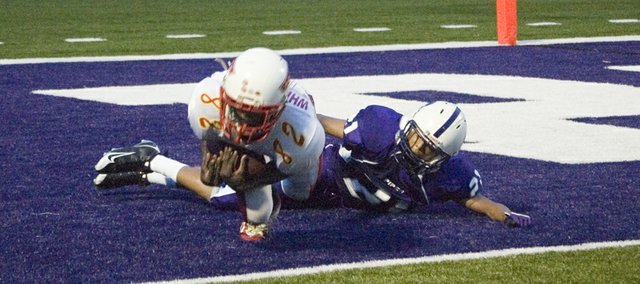 Kansas City, Kan. — What was initially announced as a 25-minute delay in the second quarter of Friday night's football game between Piper High and Tonganoxie will eventually end nearly 24 hours later.
Play was halted due to bands of storms heading through the area with 5:32 to go in the second quarter and the Pirates leading, 14-7. The rest of the game will have to be decided when play resumes at 7 p.m. Saturday.
After falling behind by seven in the first quarter, the Chieftains went 77 yards on the ensuing drive and scored on the first play of the second quarter, a 27-yard heave from quarterback Jeremy Carlisle to receiver Adrian Whittington.
The game was suspended at 7:50 p.m. and after two hours of attempting to wait out the weather, officials decided to postpone the rest of the Kaw Valley League contest until Saturday evening.