Loss may be 'defining moment' for Tonganoxie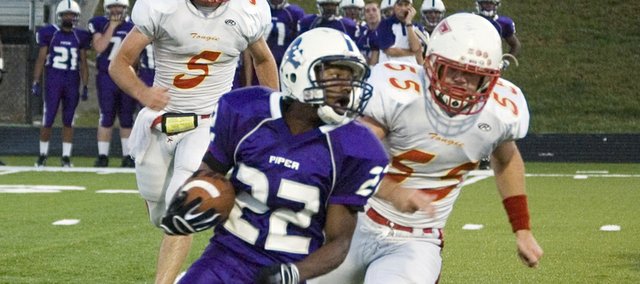 Photo Gallery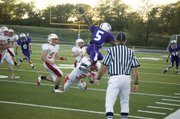 THS football loses at Piper, 14-13
The Tonganoxie High football team traveled to Piper on Friday and Saturday for a game that was suspended due to weather and finally ended as a 14-13 loss for the Chieftains.
Kansas City, Kan. — It wasn't a win. It didn't feel good. In fact, it couldn't have hurt much more. Still, the Tonganoxie High football team's 14-13 loss at Piper Saturday could be the best thing that happens to the program this season.
Coach Mark Elston called the game a "defining moment" for the Chieftains — not because a missed extra point with 1:52 to go kept them from tying it, but because of the treacherous road they had to maneuver through to get to that point.
The Pirates, Elston said, were "considerably faster" at several positions. Unlike THS, Piper didn't have to rely on two-way players. Injuries, meanwhile, piled up for Tonganoxie. Despite all of that, Elston's team was in a position to tie the game in the final minutes.
Piper got out to a 14-7 lead in the second quarter before Friday thunderstorms caused the Kaw Valley League contest to be suspended until the following evening. When play resumed, THS took the field down seven and without two key members of its secondary, Jeff Sims and Derek Lingo, both injured the night before. In the fourth quarter, starting quarterback Jeremy Carlisle limped to the sideline with a foot injury and couldn't return. Undermanned or not, the Chieftains wouldn't cave in and that is why Elston thinks they will be better as a result.
"We didn't have the numbers," the coach said, "but we kept digging, we kept fighting."
Tonganoxie (1-1 overall, 1-1 KVL) showed up at Piper Saturday knowing things wouldn't be easy without Sims and Lingo and the defense still found a way to thrive, holding the Pirates scoreless in the 29:32 of play that night. On the team's first defensive possession after play resumed, THS forced a three-and-out. Then linebacker AJ Gilbert left the field with an injury and was kept out until the fourth quarter.
No matter. The defense was called upon again with Piper (1-1, 1-1) in Chieftains territory with just under 30 seconds to go in the half and Piper couldn't pick up a first down, let alone score.
It was more of the same in the third quarter. Whether it was Brady Waldeier, Amos White, Shawn Marin or someone else, different guys on defense just kept making plays.
Even after Piper had some success and picked up a red-zone first down on a pass interference call, Tonganoxie wouldn't buckle. On first-and-goal, Jonas Myers, Julius Coats and Ryan Lynch stuffed a run play. On second down, Dallas Jacobs made a tackle near the line of scrimmage. The next play, Carlisle picked off a pass in the end zone.
The interception was one of three in the game for the Chieftains — Adrian Whittington snagged one in the first quarter and Dylan Scates took one away in the second. It was a breakout game for Whittington, who also caught two touchdown passes on offense. The senior receiver and corner said the defense's success was simple.
"I feel like our line was getting a good push on defense. Our d-backs, they've been good," he said.
The defense kept finding different ways to overcome its problems and the offense eventually had to do the same. With 9:04 to go in the game, Carlisle, the team's senior quarterback, left the game after his foot got bent backward.
Junior Waldeier was the new man under center and although Tonganoxie wasn't able to score on his first possession at QB, after another three-and-out from the defense, the offense took the field ready to drive. Ian McClellan and Marin carried the load on the ground on an eight-play, 3:27 drive that finished with Waldeier hitting Whittington for a TD.
It wasn't easy, Waldeier said, but it's his duty as the backup to stay prepared.
"It's a lot of pressure. You've just got to get ready in practice," he said, noting confidence grew in the huddle as the team marched down the field. "We started moving the ball and it just got exciting."
The excitement of the team's first score since the second quarter (a day before) was squelched, though, on the ensuing extra point. Steady junior kicker Amos White had a very rare misfire, striking the point after just inches wide right.
However, Whittington said the Chieftains still have the same confidence in White they've always had.
"It was a heartbreaker," he said.
Besides, it wasn't as if the kick would have won the game. As Elston pointed out: "Even if we made that extra point, we still would have had to go into overtime and win that."
After Piper finished the game by taking a knee three times, Elston addressed his team on the field and told the players he thought the game would be a "defining moment" this season. They might not have won, but the Chieftains showed their resolve and played like a team desperate for victory, which is exactly how they will need to perform in late October, when a postseason berth will be on the line.
At 7 p.m. Friday, THS plays host to Mill Valley for the team's homecoming game.
Score by quarters
THS 0 7 0 6 — 13
PHS 7 7 0 0 — 14
Scoring
P — Glenn Morris 49 run. Matt Woolley kick.
T — Adrian Whittington 27 pass from Jeremy Carlisle. Amos White kick.
P — Jaron Guess 27 pass from Beau Soucie. Woolley kick.
T — Whittington 13 pass from Brady Waldeier. White kick wide right.
THS rushing: Jeremy Carlisle 18-96, Shawn Marin 9-30, Dylan Scates 7-24, Ian McClellan 8-20, Brady Waldeier 2-4.
THS passing: Jeremy Carlisle 4-10-75 one intercepted, Brady Waldeier 1-2-13.
THS receiving: Adrian Whittington 3-53, Dylan Scates 2-35.