No excuses for Tonganoxie volleyball in setback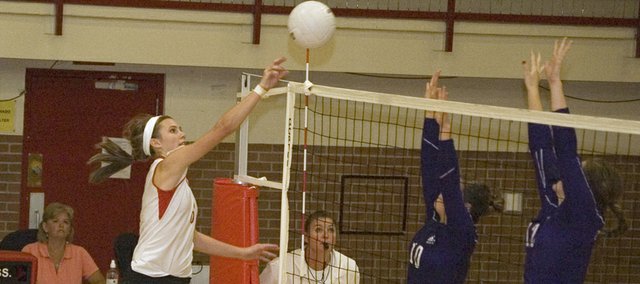 Photo Gallery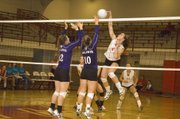 Chieftains volleyball loses at home
The Tonganoxie High volleyball team dropped the last two games of a best-of-five set and was defeated by visiting Baldwin on Thursday night.
If members of the Tonganoxie High volleyball team wanted to make excuses for their Thursday home loss to Baldwin, they could have.
After losing the best-of-five match, the Chieftains could have pointed to the absence of senior Molly O'Hagan. With a smaller rotation and players taking on more important roles, copping out would have been easy.
However, THS players and coaches felt like they could have — and should have — won the home match, especially after winning two of the first three games. Instead of inventing reasons that led to the loss, they were rational, realizing Baldwin's ability to play with more of an edge and the Chieftains' lack of execution led to the setback.
Each player in the rotation — Megan Hummelgaard, Hannah Kemp, Brooklyn Kerbaugh, Kailan Kuzmic, Danielle Miller, Sagan Scates, Haley Smith and Jenny Whitledge — contributed to the early THS advantage but in the fourth game, things took a turn for the worse. That is when the squad's passing, setting and serving dropped off some but what really allowed the Bulldogs to win the final two games and the match, Tonganoxie co-coach Brandon Parker said, was the visiting team's approach.
"Baldwin looked like a team that wanted to beat us and we looked like a team that was playing another game — big difference," Parker said, adding that the Chieftains started playing lethargic. "When you're hungry to beat somebody, you go that extra step. We got beat on some balls tonight that we should get."
When THS failed to match its opponent's intensity, Whitledge said, Baldwin took control.
"We were kind of up and down. When we were really high, there was nothing that could bring us down," Whitledge said. "Then they saw our weakness a little bit and they attacked it."
Even though O'Hagan was in California, making a recruiting trip to Cal State-Bakersfield, Parker said he and co-coach Tiffany Parker had faith in the ability of the rest of her teammates to deliver a victory. Brandon Parker said players filled that void at times, noting Miller and Whitledge put forth nice efforts.
With the match tied at one game apiece, Whitledge took over late in the third game. The sophomore had a kill to stop a BHS spurt and then scored two of her team's final three points with a kill and a block.
Whitledge said all of the players thought a little bit about playing without O'Hagan but they refused to say that was why they lost.
"We can't use that as an excuse. She had to be gone," Whitledge said.
Added Parker: "We had opportunities, and our girls are good enough to win without her."
In particular, the coach was happy to see Whitledge emerge Thursday and get after it on the court with her natural abilities.
"Jenny can make plays," Parker said. "She's just got a knack. The more court time she gets, the better off she's gonna be."
There were a lot of lessons to learn from the defeat, Whitledge said. Tonganoxie needed to improve its passing and blocking, among other things, she said. The biggest key in the future, though, will be the Chieftains' ability to maintain a high level of play throughout their matches.
"We had to finish it with the energy we had in the first game," Whitledge said.
At 7 p.m. Thursday, THS plays at Pleasant Ridge, near Easton. On Saturday, Tonganoxie will compete at its first tournament of the season, the Rossville Invitational.