THS

cross country boys take 5 of top 9 spots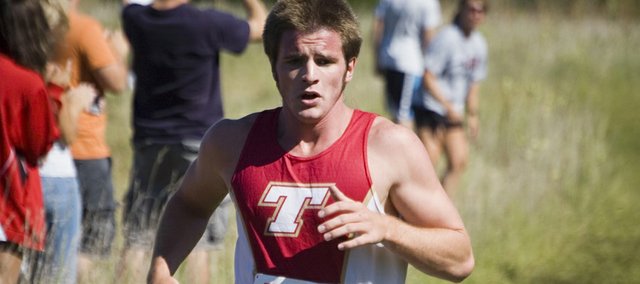 The second event of the season turned out to be a day of firsts for the Tonganoxie High boys cross country team.
Patrick Rachford won his first individual championship Thursday at the Atchison County Invite, in Effingham, but the THS runner needed some help from his cross country compadres to propel the Chieftains to a first-place finish.
And boy did they deliver. After Rachford won the 5K race in 18:38, four of his teammates finished in the next minute and 15 seconds as Tonganoxie took five of the top nine spots. Plus, two other Chieftains broke the top five — Caleb Himpel finished third and Dalton Harrington placed fifth.
THS coach Phil Williams thought the runners had the perfect approach.
"I was particularly excited about the boys' victory because of the way our top five were grouped," Williams said, "only 1:15 from our first runner to our fifth. Our fourth and fifth runners, Keith Slater and Brady Field, were the key to us winning because they were able to stay so close to our top three. "
When Tonganoxie opened its season with a dual against Lansing, Rachford and Himpel turned in solid showings but the coach said he was concerned with the boys' overall performance.
"A week ago, I thought that the gap between our third and fourth runners was going to be a problem. Now, there is very little gap there," Williams said.
Rachford was proud of his individual run — "I've never been that good," he said — as well as the showing of his entire team. Before the race started, he said Williams told the boys Basehor-Linwood would be Tonganoxie's biggest competition that afternoon. With each runner pushing to his personal capacity, the race ended with a team title for the Chieftains.
"Basically we just all had the mindset of going out there and winning that day," Rachford said. "We knew we had some competition but we pretty much knew we could wipe it out."
Himpel said the boys wanted to run better than they did in a season-opening dual loss because they were disappointed with that effort. It showed at Effingham.
"We were better," Himpel said. "We just clicked that last week or two of practice."
Their preparation led to quite a show.
Said Williams: "It was one of the best team races we have run in three or four years."
Girls take 2nd
The Tonganoxie girls had a successful run at Atchison County, as well.
"We were extremely pleased with the results all the way around," Williams said.
That's because the girls finished second in the team standings, Emily Soetaert took fourth place and Alex Hauk ran fast enough for sixth.
"Our girls improved from last week, and I hope that trend continues," Williams said. "We are still working on getting our third, fourth, and fifth runners up a little closer to our top two."
The Chieftains' third runner, Taylar Morgan, wasn't too far behind. She finished 13th but was just 38 seconds behind Hauk and 1:03 behind Soetaert.
She said the team's top two runners have endurance and strength.
"Just the way they pace themselves off each other just works well for them," she said.
At 5 p.m. on Tuesday, THS will play host to the Tonganoxie Invitational.
Atchison County Invite
Thursday at Effingham
Girls 4K
Team standings: 1. Basehor-Linwood, 22; 2. Tonganoxie, 46; 3. Pleasant Ridge, 66.
THS results: 4. Emily Soetaert, 17:52; 6. Alex Hauk, 18:17; 13. Taylar Morgan, 18:55; 18. Emma Stilgenbauer, 19:22; 19. Niki Beggs, 19:32; 20. Parker Osborne, 19:39; 22. Amanda Shepley, 20:40.
Boys 5K
Team standings: 1. Tonganoxie, 29; 2. Basehor-Linwood, 40; 3. Atchison County, 91; 4. Valley Falls, 111; 5. Pleasant Ridge, 132; 6. McLouth, 133.
THS results: 1. Patrick Rachford, 18:38; 3. Caleb Himpel, 19:08; 5. Dalton Harrington, 19:30; 8. Keith Slater, 19:50; 9. Brady Field, 19:53; 21. Jeff Neal, 21:13; 22. Andrew Behm, 21:18.