Landing a lawman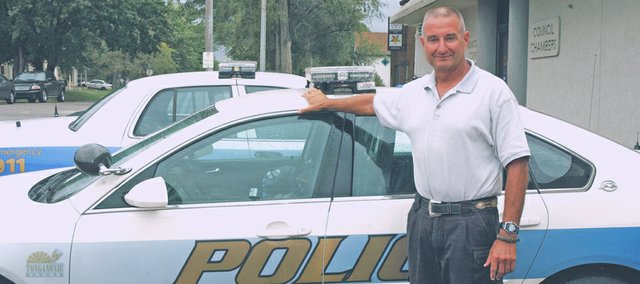 When the Tonganoxie City Council members agreed to open up the search for a new police chief, they couldn't have guessed how wide that search would go.
Jeffery Brandau, the man the council chose for the position Sept. 7, applied for the position from Afghanistan, where he was a consultant instructing U.S. Marines in the training of native security forces.
It was a rewarding experience, the 54-year-old Brandau said, and one that erased doubts about the direction of the country.
His wife, Cynthia, however, had reservations and wanted him closer and safer, Brandau said.
The Brandaus found that with his hiring as police chief of Tonganoxie, which will be the next chapter in a 26-year law enforcement career that began as a Salina patrolman and saw him rise to an administrative position with the Kansas Bureau of Investigation.
"It's going to be a new experience for me," he said. "But so much of it is still supervision, policy, training and enforcing the law. I don't anticipate a change.
"To be able to participate in the community, that's what I'm looking forward to."
Brandau, who will start Oct. 6, plans to move with his wife from Topeka to Tonganoxie. One advantage of the move is that it will get them closer to their second oldest of three sons, Jack, who is a canine police officer with the city of Leavenworth.
His goal is to keep Tonganoxie a safe place to live and do business, Brandau said.
"My plan is to audit some of the functions of the police department. If I see any problems and anything that could potentially be a problem, we'll change some things. Just monitor operations to make sure they are as efficient as possible.
"I'll come and take a look and see that Tonganoxie remains as wholesome as I think it is. A nice All-American city — I think that is what people think Tonganoxie is."
The decision to apply for the Tonganoxie position was something of a replay of a family decision that led Brandau to sell his successful fertilizer company in 1982 to become a patrolman.
"With the fertilizer business, the way I did that was contract with large companies throughout the country and even into Canada," he said of the business he started after graduating from the University of Utah in 1977. "I was gone a lot. We were starting our family with small boys at home. My wife wanted me around more.
"I had a cousin who was a police officer in Kansas City, Kansas, and it was something I thought I wanted to do. It was the best thing I ever did."
Brandau rose in the ranks to become a police sergeant before leaving the department in to join the KBI in 1988.
"I like investigations," he said. "That's why I went to the KBI. That's what it is all about.
"I like people. I like talking to them. Investigations are a lot of relationship building. I like that."
And he was apparently good at it. Investigations he participated in or led won him numerous awards, such as the Kansas Chiefs of Police Bronze Award he won in 2006 — one of four such distinctions he earned while with the KBI — which involved a wiretap operation of the Midwest Gangster Crips and resulted in 20 federal indictments in five states.
While a resident special agent assigned to Junction City from 1991 to 1994, he was responsible for felony crime investigations in a five-county area, Brandau said.
"There was a lot of homicides," he said. "One year right after the Gulf War, there were nine."
One of the high-profile homicides he helped solve had been open for 18 years, Brandau said.
His investigative success was reflected in Brandau's career track with the bureau. He left the Junction City posting to become supervisor of the KBI's undercover narcotics section before being promoted to special agent in charge of the East Region Special Operations Unit for 12 years. Brandau's final position with the bureau in 2008-2009 was that of administrative special agent in charge, in which he acted as the liaison with the Kansas Legislature and oversaw the bureau's training and internal affairs.
It wasn't the first time Brandau has lobbied lawmakers. One of his responsibilities with his 2000 election as president of the National Alliance of Drug Enforcement Agencies 2000 was representing state drug enforcement interests in Congress.
Brandau also was a founding member of the Shawnee County Drug Court — the first such felony drug court in Kansas — and brought TOP GUN narcotics training to the state, which teams investigators and prosecutors in a joint learning environment. The training is now required for narcotics officers in the Kansas City, Kan., Salina, Topeka and Wichita police departments.
"I've been able to have a few ideas, follow through on them and make them happen," he said. "That's probably been a strength."
Tonganoxie City Administrator Mike Yanez said the city would benefit from the many connections Brandau made during his years in law enforcement.
"I think he knows who is who, and I think people in the region know him," he said. "I always figured law enforcement people to be a tight-knit community. They do a lot of cooperative problem-solving. His connections will be valuable for coalition building.
"At the same time, he will be a resource to other departments in the area."
Changeover is constant, Brandau said. But he said it was valuable to have connections.
"When budget restraints come and you don't have the manpower and you get critical instances, the ability to call other agencies to assist is something you can't put a price tag on," he said. "The future will require more and more cooperation among agencies to fill needs."