THS

Homecoming activities in full swing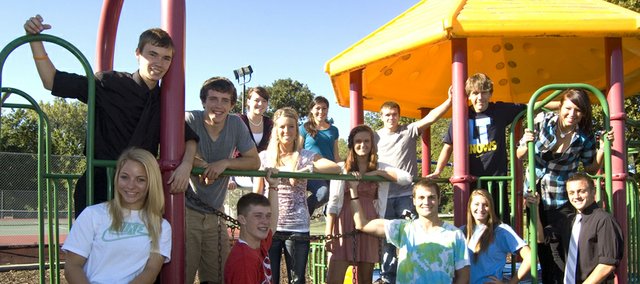 Visitors to Tonganoxie High School on Thursday might wonder whether they've been teleported to a different time.
It will be Blast from the Past Day at THS, which can only mean one thing: Students are in the middle of Spirit Week as part of Homecoming festivities.
The week kicked off with Nerd Day on Monday. Tuesday was Twin Day and today is Fake Injury Day. Friday will be Red/White Day.
With another early homecoming week, student council sponsor Sherrie Evans said students needed to gather in early August to coordinate for this week's festivities.
"With an early homecoming like this, it's a challenge to get everything covered," Evans said.
The bulk of this week's festivities will take place Friday.
At 2 p.m., the traditional homecoming parade will make its way along Fourth Street in downtown Tonganoxie with the theme being Jump the Jaguars. THS will play the Mill Valley Jaguars in the homecoming football game.
From 3-5 p.m., a reception will take place at the Myers Hotel for inductees into the first class of the Tonganoxie School District's Education Hall of Fame.
At 6:30 p.m. coronation of the homecoming king and queen will start and at 7 p.m., the football game will begin.
At halftime of the game, the inaugural class of the district's education hall of fame will be inducted.
THS students will then cut a rug with the homecoming dance running from 8:30-11 p.m. Saturday. The theme is "Dynamite — I came to dance."
Queen candidates for this year's homecoming are Kelsey Dunning, Alexis Faherty, Alex Hauk, Kayla Jackson, Molly O'Hagan, Shelby Pursel and Carson Simmons.
King candidates are Jeremy Carlisle, Ian McClellan, Quinten Olson, Dylan Scates, Jeff Sims, Austin Vickers and Jake Willis.