Leavenworth County goes forward with digital radio deal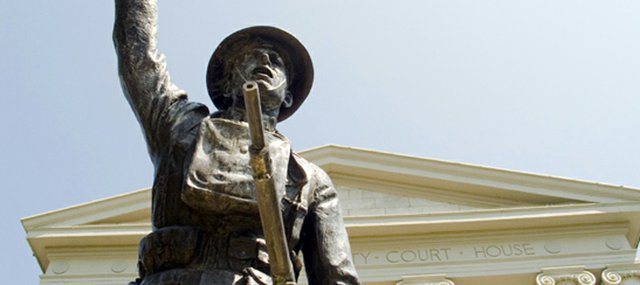 To the disappointment of Leavenworth County commissioners, the county has not quite wrapped up details an agreement to secure digital radios for local fire departments.
During July discussions for the 2011 budget, county commissioners agreed to have the county act as the signatory for a deal with Motorola that would allow the purchase of the radios needed to communicate with the county's new digital emergency communication system. In agreeing to that role, commissioners insisted on no expense for the county and that all 11 participating fire districts, townships and cities make room in their budgets to pay for the radios.
The county's switch to digital was necessitated when the federal government decided to sell the bandwidths the old analog system used. The new digitals use a narrower bandwidth that existing analog radios have difficulty picking up.
That arrangement was threatened last month when two departments, Leavenworth County Fire District No. 1 and Kickapoo Township walked away from the Motorola deal because of required packaged insurance. However, Motorola agreed to offer the remaining nine departments $643,000 worth of radios at the same price per radio and with the same zero-percent, seven-year financing.
On Monday, commissioners learned of a new complication to the deal. County Administrator Heather Morgan said a licensed Motorola dealer had been offering the local departments a different deal, and Sherman Township had decided to buy its radios from that dealer.
However, Motorola saleswoman Linda Harmon said the negotiated purchase could go ahead despite the loss Sherman Township or other departments.
Harmon told commissioners the radios the licensed dealer was offering did not have the capacity to communicate with emergency radios in surrounding counties should departments using them respond to a mutual aid call beyond the county line.
Harmon said that also was true of some of the radios in the negotiated Motorola deal, but that higher-priced radios were available for supervisors that would be able to universally communicate with all new digital systems.
The radios Motorola was offering would also come pre-programmed, which cost $180 a radio, Harmon said. But she offered the option of selling them without that and other features to reduce cost.
Commissioners, who said they wanted to see the issue closed, chose to remain with the arrangement negotiated last month and give local fire departments one more chance to accept it or seek their own deals.
It was agreed the information Harmon shared with commissioners Monday would be forwarded to the local departments. They would have until 10 a.m. Sept. 23 to commit in writing to the Motorola deal.