Jags cruise at Tonganoxie, 57-12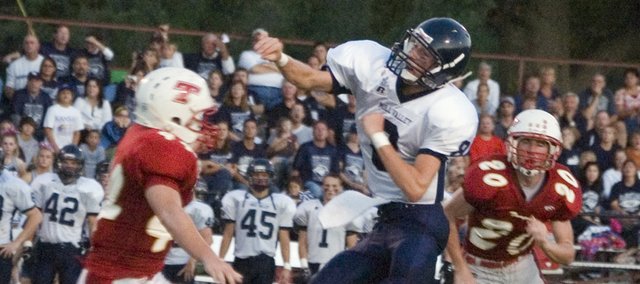 Shorthanded, the Tonganoxie High football team had a long homecoming night Friday at Beatty Field — even though there was a running clock in the second half.
Mill Valley sophomore quarterback Skyler Windmiller aired it out with five touchdown passes as the Jaguars drubbed the Chieftains, 57-12.
THS (1-2 overall, 1-2 Kaw Valley League) was without senior quarterback Jeremy Carlisle and senior safety Jeff Sims, both sidelined with injuries, but that was just the beginning of the home team's problems.
Mill Valley (2-1, 2-1) jumped on Tonganoxie early, taking a 29-0 lead after one quarter and did whatever it wanted to — be that run the ball up the middle with senior back Kyle Brunson, who went for two scores and continually gashed the Chieftains' defense, or roll out Windmiller and have him look deep for an open receiver.
It wasn't until the second quarter that THS finally found the end zone. Quarterback Brady Waldeier hit Shawn Marin with a pass and the senior running back took it in for a 41-yard score with 10:45 to go in the first half.
But less than two minutes later, the Jags were at it again and scored on a 10-yard pass from Windmiller to Colin Wistuba.
Although Tonganoxie was able to score on its next possession, when senior back Dylan Scates caught a pass from Waldeier and turned it into a 71-yard touchdown with 8:03 remaining in the second quarter, the Chieftains couldn't put together another scoring drive.
Unlike the previous two weeks, THS was unable to force any takeaways against the Jaguars, who were plus-three in turnover margin thanks to fumble recoveries by Justice Oehlert, Jeremy Spalding and Lance Parker.
Next Friday, Mill Valley plays host to Bishop Ward and Tonganoxie travels to Kansas City, Kan., to take on Turner.
Score by quarters
MVHS 29 14 14 0 — 57
THS 0 12 0 0 — 12
Scoring
M — Kyle Brunson 7 run. Mark Biesma kick.
M — Staton Rebeck 20 pass from Skyler Windmiller. Biesma run.
M — Dylan Floyd 74 pass from Windmiller. Biesma kick.
M — Biesma 17 pass from Windmiller. Biesma kick.
T — Shawn Marin 41 pass from Brad Waldeier. Conversion failed.
M — Colin Wistuba 10 pass from Windmiller. Biesma kick.
T — Dylan Scates 71 pass from Waldeier. Conversion failed.
M — Brunson 8 run. Biesma kick.
M — Floyd 28 pass from Windmiller. Biesma kick.
M — Floyd 61 punt return. Biesma kick.