Chieftains overmatched in 45-point 'L'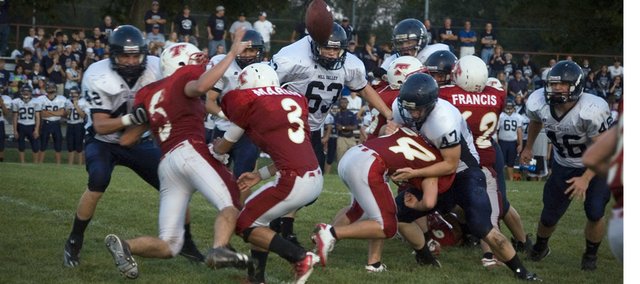 Photo Gallery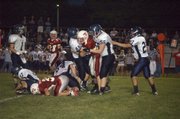 Mill Valley 57, Tonganoxie 12
Mill Valley High scored eight touchdowns in a 57-12 road win at Tonganoxie on Friday night.
Trying to pick just one reason that Mill Valley completely dominated the Tonganoxie High football team in a 57-12 blowout on Friday would be fruitless.
There were too many factors from which to choose.
From the Jaguars' talent and depth, to Tonganoxie's missing starters, to a lack of focus and effort from the Chieftains, a number of components added up to a frustrating and embarrassing 45-point homecoming loss at Beatty Field.
It probably would have taken a perfect outing from THS to knock off MVHS and it was clear from the first few minutes of the Kaw Valley League contest that Tonganoxie (1-2 overall, 1-2 KVL) wouldn't be able to do so. The Jaguars were up 29-0 before the Chieftains even entered Mill Valley territory.
The Jaguars (2-1, 2-1) scored on their first six possessions before punting for the first time with just more than two minutes to go in the second quarter and took a 43-12 lead into halftime. Tonganoxie, meanwhile, only picked up three first downs in the first half, before seeing that total drop to two in the second half, when a running clock was implemented.
There simply weren't a lot of positives for THS, said junior quarterback Brady Waldeier, who aptly described the play of his foes.
"They're bigger and played a lot harder," he said of the Jags.
Waldeier, Tonganoxie's second-string quarterback, had a solid outing while replacing starter Jeremy Carlisle, out with a foot injury. Waldeier completed four of his seven passes for 128 yards and two touchdowns and ran for 36 yards.
But the offense didn't click often enough for THS to keep up with Mill Valley's killer pace. Coach Mark Elston said the Chieftains only ran four or five "really good" offensive plays, meaning all 11 players did their jobs exactly right. Two of those came on lengthy touchdown receptions. Senior Shawn Marin took a short pass from Waldeier and turned it into a 41-yard score with 10:45 remaining in the second quarter, giving the Chieftains their first score. The other was even longer, a 71-yard reception by Dylan Scates.
However, Scates said that wasn't nearly enough and Tonganoxie's effort throughout the night was inferior to Mill Valley's, especially in the first quarter, when the Jags took control.
"They got a couple on us early and we put our heads down," Scates said. "We came out flat and we were not playing hard. We weren't playing our ball game at all."
Even though the Chieftains were without a number of starters, including senior safety Jeff Sims (who suffered a concussion a week before), Scates said that was no excuse for the one-sided loss.
THS also missed the help of senior lineman Dylan Fosdick, who was out with a bad back. During the game, two more Chieftains were sidelined — junior cornerback Derek Lingo and senior lineman and linebacker Jacob Cannon.
Said junior linebacker Jonas Myers: "I don't think that it helped that a lot of our leadership wasn't out there."
Elston, too, bemoaned his thinned roster.
"We had to stay healthy throughout the game and at one point out there we had one senior on the field in the third quarter," the coach said. "You just can't play a (Class) 5A school with two platoons."
Not only did Tonganoxie lack leadership on the field, Elston added, the team wasn't mentally prepared to compete.
"Our focus wasn't where it needed to be for us to be successful," he said.
If there was one area where the Chieftains struggled most, it was defending Mill Valley's passing attack. Jags quarterback Skyler Windmiller threw five TD passes. Scates said the Tonganoxie defensive backs failed on Friday.
"Our secondary was atrocious," the senior defensive back said. "We got passed on so much tonight and part of that is my fault. It's a team effort. We all have a lot to work on."
Defensive highlights were nearly nonexistent for Tonganoxie but there were a few. Ian McClellan, Shane Levy and AJ Gilbert each had a tackle for loss. Julius Coats, meanwhile, recorded a sack.
THS had no takeaways either, while losing three fumbles.
Myers said games are won and lost at the practices leading up to Friday each week, and the defense will have to greatly improve its effort if it wants to become a more effective unit.
Things won't get any easier for Tonganoxie at its next outing, a 7 p.m. Friday road game at Turner (1-2, 1-1), in Kansas City, Kan. Lingo is out indefinitely, Elston said, and the coach is preparing for Turner as if neither Carlisle nor Sims will be available.
Score by quarters
MVHS 29 14 14 0 — 57
THS 0 12 0 0 — 12
Scoring
M — Kyle Brunson 7 run. Mark Biesma kick.
M — Staton Rebeck 20 pass from Skyler Windmiller. Biesma run.
M — Dylan Floyd 74 pass from Windmiller. Biesma kick.
M — Biesma 17 pass from Windmiller. Biesma kick.
T — Shawn Marin 41 pass from Brad Waldeier. Conversion failed.
M — Colin Wistuba 10 pass from Windmiller. Biesma kick.
T — Dylan Scates 71 pass from Waldeier. Conversion failed.
M — Brunson 8 run. Biesma kick.
M — Floyd 28 pass from Windmiller. Biesma kick.
M — Floyd 61 punt return. Biesma kick.
THS rushing: Cody Saladin 7-56, Brady Waldeier 11-36, Dylan Scates 3-22, Garret Elston 4-20, Shawn Marin 3-8, Ian McClellan 4-1, Adam Thomas 1-0, Derek Lingo 1-(minus) 1.
THS passing: Brady Waldeier 4-7-128.
THS receiving: Shawn Marin 2-45, Dylan Scates 1-71, Dallas Jacobs 1-12.