Chieftains volleyball nabs silver in Rossville
THS

goes 5-1 at first tourney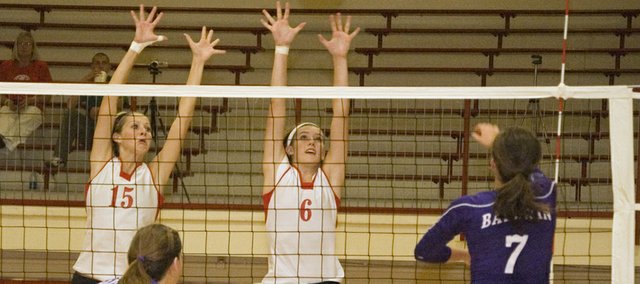 Rossville Results
Tonganoxie High went undefeated in pool play and finished 5-1 to take second place at the Rossville Invitational on Saturday.
Pool play
De Soto W 25-23, 25-10
Wamego W 25-17, 25-13
Ottawa W 25-20, 25-12
Bracket play
Royal Valley W 25-22, 25-12
Clay Center W 25-16, 21-25, 25-16
Championship
Towanda-Circle L 25-19, 26-24
Chieftains' stat leaders
Kills: Molly O'Hagan, 52
Blocks: Jenny Whitledge, 21
Aces: Kailan Kuzmic, 6
Digs: Molly O'Hagan, 59
Assists: Sagan Scates, 56
If there was any doubt about how much better the Tonganoxie High volleyball team is this year, that notion was swiftly spiked to the floor on Saturday at the Rossville Invitational.
At the Chieftains' first tournament of the season, they swept their first four opponents and defeated Clay Center (a team that received votes in the Kansas Volleyball Association's Week 2 rankings) in the semifinals before losing to Towanda-Circle in the championship round. THS went 5-1 and took second place at a tournament where it went 1-3 a year ago.
Just like last season, it was a pretty even field at Rossville. The biggest difference this time was the play of Tonganoxie.
"You were gonna have a good match, no matter who you were playing," co-coach Brandon Parker said.
Clearly, Towanda-Circle gave the Chieftains the most problems, thanks in large part to the team's size in the middle, defeating THS in straight games, 25-19, 26-24. Parker said the tournament champion was a fairly comparable team to Tonganoxie — as evidenced by the close scores and the fact the Chieftains rallied from a 24-19 deficit in the second game to tie things up before Circle scored the final two points.
"We made a couple mistakes," Parker said. "We didn't get to hit as many balls as we would like."
What made THS (7-2) so successful was the balance of the team's play. No one really stood out in particular. All nine players — Megan Hummelgaard, Hannah Kemp, Brooklyn Kerbaugh, Kailan Kuzmic, Danielle Miller, Molly O'Hagan, Sagan Scates, Haley Smith and Jenny Whitledge — played an important part in the team's second-place finish at Rossville.
"Everyone had their time where they contributed," Parker said. "Molly was tough to stop there, a lot. But each of our hitters had some key hits at big times."
Parker was much happier with the team's play at the tournament than he was two days earlier at Pleasant Ridge. Although Tonganoxie won the Thursday road dual in four games, the co-coach said there was some complacency. Fortunately, the Chieftains refocused before heading to Rossville. Other than looking a little sluggish in the first part of bracket play against Royal Valley, Parker said, the team performed at a high level.
"Obviously, you have to play well when you're gonna play six matches," Parker said.
THS hopes to play well on Saturday, when it plays host to the Tonganoxie Invitational. With teams from Class 6A and 5A making up part of the field, it will be a challenge to get to another championship match.
"Having those teams makes this tournament very tough," Parker said. "What do the girls want to do? The girls want to get back to the championship game and get another shot at it. But they know as well as anyone that you've got to play really well all day to get there."
Before the invitational gets started at 8 a.m. Saturday, Tonganoxie has a 5 p.m. Thursday triangular at Pleasant Ridge, near Easton.