Chieftains lose at Turner, 28-8
Final
THS

drive avoids shutout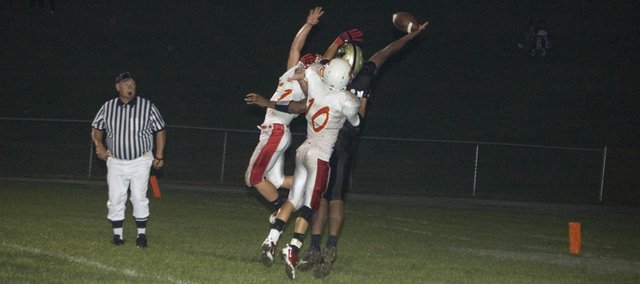 Kansas City, Kan. — An urgent final drive late in the fourth quarter kept the Tonganoxie High football team from being shut out at Turner Friday night.
If the Chieftains could have moved the ball like that all evening, they wouldn't have been sent home with a 28-8 loss.
A 17-play, 91-yard drive that featured nothing but rushes — from six different Chieftain ball carriers — and took just under six minutes was the highlight of an otherwise uneventful night for Tonganoxie (1-3).
The 10th and final possession of the game for the Chieftains featured fourth-down conversions by junior quarterback Brady Waldeier and sophomore running back Tyler Zinser before sophomore quarterback Garret Elston rushed for the team's only touchdown with 27 seconds left and followed that up with a successful two-point conversion on a sneak.
Tonganoxie coach Mark Elston liked what he saw in that drive, because the offense had some flow to it. However, he said, that was lacking the rest of the evening against Turner (2-2).
"Part of our problem is we've got to get that urgency from play one," Elston said. "We busted a couple of big plays early and people got some confidence but our tempo was not good."
Next Friday, Tonganoxie plays host to Bonner Springs.
Score by quarters
Tonganoxie 0 0 0 8 — 8
Turner 6 8 14 0 — 28
Scoring
Tur. — David Bernal 1 run. Nick Rodriguez kick missed.
Tur. — Bernal 2 run. De'Andre Walters run.
Tur. — Safety.
Tur. — Walters 1 run. Conversion failed.
Tur. — Brian Blackwell 5 run. Conversion failed.
Tong. — Garret Elston 1 run. Garret Elston run.
Tong. rushing: Shawn Marin 5-60, Ian McClellan 6-32, Brady Waldeier 14-29, Tyler Zinser 8-20, Cody Saladin 5-16, Dylan Scates 2-8, Adam Thomas 2-4, Garret Elston 4-2.
Tong. passing: Brady Waldeier 3-8-19 one intercepted.
Tong. receiving: Dallas Jacobs 2-13, Dylan Scates 1-6.